Pumpkins make an excellent food for baby and – for many of us – they're available in abundance right now!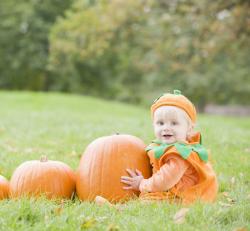 So if you haven't yet introduced your little one to the delights of this fabulous fall food, now is the perfect time to give it a try!
Pumpkins are rich in beta-carotene (which your baby's body converts to vitamin A) and it's actually the beta-carotene that gives them their gorgeous orange colour.
Pumkins are rarely found to trigger allegic reactions or digestive difficulties in babies, so they make a perfect first food, even from as young as 4 months of age if your doctor has recommended introducing solids a little early.
And their texture is just wonderful for younger babies – pumpkins are easy to puree to creamy perfection!
Unable to get hold of fresh pumpkin in your part of the world?
Well, the good news is that canned pumpkin is highly nutritious, too… and the bonus is that a lot of the preparation work has already been done for you! Just be sure to check whether or not your canned pumpkin contains pumpkin pie spices – they won't present a problem, of course, if your baby has already been introduced to them and you were planning on including them in your recipe anyway.
For some recipes, however, the spices may be undesirable and conflict with other ingredients in the recipe – so do check the label when purchasing.
SPECIAL NOTE: Tempting though it may be, we don't recommend using the flesh from your carved out Jack o Lantern to make baby food (those larger pumpkins don't have such a great taste or texture). Instead, we recommend tracking down a smaller, sweeter pumpkin for use in your homemade baby food recipes.
Homemade Baby Food Ideas With Pumpkin
Now we've sold you on the many benefits of preparing pumpkin for your tiny diner, it's time to get cooking!
Here are a variety of pumpkin recipes from around our site… we hope YOUR little pumpkin enjoys them!
1. Potato and pumpkin puree
A silky blend of potato, pumpkin and cheese, with a hint of sage.
2. Pumpkin, apple and banana puree
Just 3 ingredients create a delicious puree, ideal as a first baby food!
3. Pumpkin and apple muffins with flaxseeds
Easy to make, these wonderful muffins are so delicious the whole family will fall in love with them – and YOU'LL be happy knowing they're receiving a healthy dose of vitamins, minerals and Omega 3 fatty acids.
4. Spiced pumpkin scones
Made with whole wheat flour, these delicately spicy scones make a terrific Halloween treat for baby!
5. Easy raisin bread for baby made with canned pumpkin
There's just one word to describe this pumpkin-laced raisin bread… YUMMY!
6. Spiced pumpkin soup
As easy as can be for baby to eat, this scrumptious soup embraces all the fabulous flavours of fall.
7. Extra special roasted pumpkin puree
There's pumpkin puree…. then there's extra SPECIAL pumpkin puree! Try this nutritious dish that combines freshly roasted pumpkin with spices and chicken stock, and you'll see why it's name is so well deserved!
And if 7 recipes are just not enough to satisfy your baby's love of this super squash, you'll find even more yummy pumpkin recipes here!
Pin It