The only problem with poaching is that it can be fiddly and time consuming… UNLESS you use this easy-peasy method with the microwave, that produces perfectly poached eggs in under 2 minutes.. no mess, no fuss!
(NOTE: Some parents choose not to use a microwave at all, questioning their safety, which is (of course) a personal decision. We discuss this in more detail here: http://www.homemade-baby-food-recipes.com/heating-baby-food )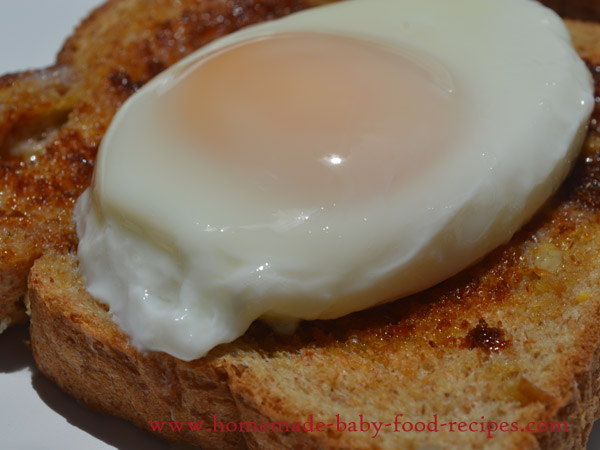 To Make A Perfectly Poached Egg for Baby You Will Need…
1 egg
1/3 cup water
couple of drops of white vinegar (this helps the egg form a nice shape – don't worry, it won't taste of vinegar!)
Preparation is so-o-o easy!
1. Simply pour the water into a microwave-safe bowl.
2. Add the vinegar to the water.
3. Crack the egg into the water.
4. Cover and cook on full power for 60 seconds.
5. Remove from the microwave and check for done-ness, then return to the microwave and cook in 20 second bursts, until the white and yolk are set (runny egg yolks are not recommended for babies and young children). Microwaves vary so the exact time may be different for you – ours take 1 minute 40 seconds for a completely cooked egg for our children (although we actually prefer a runny yolk ourselves, which takes 1 minute 20 seconds).
6. Use a slotted spoon to remove the egg from the water and serve – we like to cut the egg into pieces for younger children and serve it as a finger food. In our picture, the egg is served on a piece of toast, with a very thin scraping of Marmite!
NOTE: If you wish to poach a second egg, you CAN do so using the same water, but be warned that the water looks extremely white and cloudy once the egg is cooked (the egg itself, however, tastes and looks fine!).