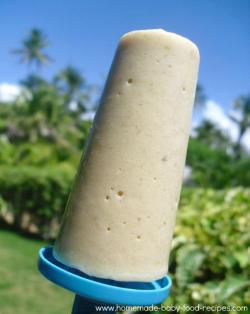 A frozen blend of tropical fruits, creamy and delicious – does that sound good to you?
As wonderfully decadent as this recipe tastes, it's highly nutritious and contains NO added sugar! Ideal for babies from 6 months who have already been safely introduced to all the ingredients, the Totally Tropical Popsicle recipe is one of the ideas on our new Healthy Popsicles for Baby page. (And please do try it yourselves, moms and dads – you'll be amazed by just how yummy it is!)
We also take a look at 'momsicles' – popsicles made with breast milk. These simple-to-prepare treats are great for hot days, for teething babies, or simply to provide a diversion at family mealtimes when you're not quite ready to introduce your baby to solid foods.
Visit our Healthy Popsicles for Baby page now!
Pin It