Today's recipe is for a very simple combination of apples and raisins, which together make a wonderful puree that's delicious served either warm or cold. It's perfect for babies from 6 months+.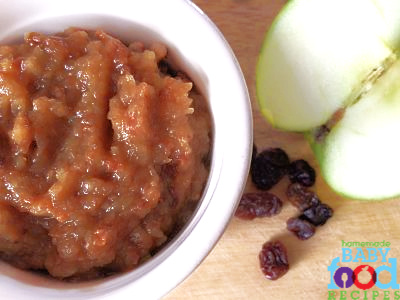 Here's what you'll need… 
1 apple, peeled, cored and diced*
1 oz raisins
2 tbsp water
tiny pinch of nutmeg and cinnamon (optional)
* Use Golden Delicious to keep things sweet, or a Granny Smith for a more robust flavour.
Wash the raisins and remove any hard stems.
Put them into a small ramekin, add the water and microwave on full power for 30 seconds.
Set aside for 5 mins.
After 5 mins, pour the raisins (which will now be plump) with the water and diced apple into a small saucepan.
Cover and cook on a low heat for 10 minutes, until the apple is nice and tender.
Remove the lid, add the spices (if using) and blend to a smooth puree in a food processor, or with a hand blender.
Serve just as it is, or add a dollop of natural yogurt for creaminess. This puree also makes a fab sauce for meats or veggies (perhaps tempting your baby to eat them if he usually refuses!)
Advice about using raisins in your baby food recipes
Pin It