Paige from Minnesota wrote to us yesterday because she has been trying to make applesauce for her 7 month old daughter Brianna.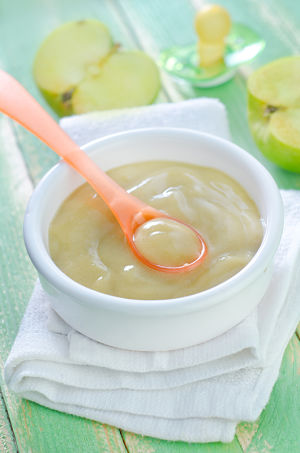 The problem is that it always comes out runny and I literally have to pour it off the spoon and into her mouth. What am I doing wrong?
The common mistake that people make when preparing homemade applesauce is overcooking the apples.
The mixture should NOT cook down to the consistency of applesauce in the pot – the end result, as Paige has discovered, is both watery and tasteless.
The trick is to cook the apples until they are tender, but still relatively 'chunky', in as little water as possible. You can then mash or puree them to the desired texture for your baby.
You can find out more about how to create the perfect homemade applesauce with NO sugar on our fruit baby food recipes page. And if YOUR purees are runny enough to serve with a straw, here are some easy ways to thicken them up.
Remember – we're always happy to receive your baby food questions and we guarantee a personal and prompt response.
Just get in touch via our Contact Page and ask away!
Pin It