Many people assume that rice cakes contain no gluten at all and may be given to babies on a gluten free diet. This, however, isn't always the case.
Gluten is a protein found in wheat, barley and rye and is sometimes present in oats. Some individuals are intolerant to gluten and this can result in damage to the intestines which – in turn – leads to serious problems in processing the nutrients from other foods. This condition is known as Celiac disease and it is believed that introducing gluten to a baby before 6 months of age may increase his risk of developing it.
You can read more about gluten and wheat here
If your baby is younger than 6 months of age – or if he has been identified as having an intolerance to gluten – then it is important to ensure that his food and snacks are gluten free. Rice cakes seem to be a great alternative snack to many teething biscuits and rusks, because rice itself contains no gluten.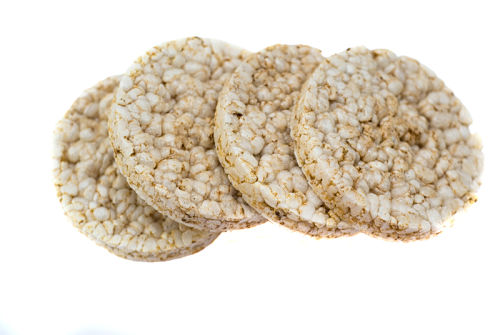 We have received a few questions from parents about which brands to buy for their babies, with some confusion about whether or not Quaker® rice cakes would be suitable.
Quaker® rice cakes ARE gluten free. In the past, the company was unable to confirm this, as it was concerned that the rice used to make them may have been grown, stored or processed with other gluten containing grains. At the time, their website stated
We understand that individuals sensitive to gluten cannot digest even trace amounts of gluten. To date, the Food and Drug Administration has not defined the term "gluten free." Since so many of our products contain grain ingredients and many products are made in the same facility, we cannot guarantee that any particular product is entirely free of gluten.
However, this advice was later updated, when Quaker® stated
The rice cake recipe hasn't changed, but all of the gluten-free large Rice Cakes were tested to make sure they meet the proposed federal standard for gluten-free products, which is 20 parts per million (ppm) of gluten.
Good news for anyone needing to avoid gluten in their diets, then!
Another company that does declare its rice cakes to be gluten free is Lundberg (friendly link). Lundberg rice cakes are available in the US and Canada, as well as certain parts of Europe.
More details of how to order Lundberg's rice cakes are provided here (friendly link)
Always check the label on any rice cakes you are buying for your baby. If it does not specifically state that the product is gluten free, then your safest option is to contact the manufacturer directly for further information.
Pin It