Rich in protein and healthy fats delivered by the avocado – and made extra yummy by the addition of sweet grapes – today's recipe is for a simple salad that can be served from a spoon, as a tasty toast-topper, in a sandwich, or even atop a baked potato!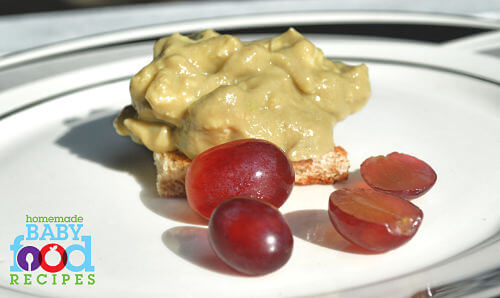 It's a great way to make use of leftover chicken and is ideal for older babies who are enjoying soft lumps in their food.
To Make Avocado, Grape and Chicken Salad for Baby You Will Need…

around 1/2 oz cooked chicken breast*
2 oz slice of avocado
1 tsp natural yogurt
little milk (you can use whole milk, breast milk or formula)
3 seedless red grapes, finely chopped
*If you don't have any cooked chicken to hand, the quickest way to prepare it is to place a breast in a small saucepan, completely cover it with water and bring to the boil. Lower the heat, then simmer until the chicken is cooked all the way through, then cool and use as needed.
Finely chop the chicken.
Place the avocado, yogurt and milk in a food processor and blend until creamy. If you are finding it difficult to get the right texture, add a little more milk to loosen the mixture up.
Stir in the chopped chicken and grapes, then serve.
This dish is best made as and when needed! For extra flavour, add a touch of garlic powder when at the blending stage.
Pin It