Babies really shouldn't eat ice cream… or should they?
Well, THIS highly nutritious avocado ice cream is so packed with valuable vitamins and healthy fats that it's not just OK for your little one to eat it… you'll be encouraging him to tuck in!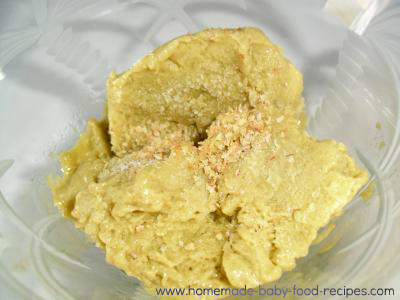 Five things we love about this avocado ice cream…
It tastes sweet, but it's SUGAR FREE, making it a fabulous alternative to 'real' ice cream.
It's dairy free, perfect for those who need to avoid cow's milk.
It's super-simple to make – and you DON'T need an ice cream maker.
The fats in the avocado provide the creaminess that ice cream needs.
The avocado flavour is subtle, so if your little one doesn't particularly care for avocados, this is a GREAT way of getting him to eat them!
To Make Avocado Ice Cream for Baby You Will Need…
1/2 ripe banana, peeled
1/2 avocado, pitted*
1/2 tsp vanilla essence (optional)
1 tsp wheat germ (optional)
* We've made this with both the smaller Hass avocados and the large, Florida variety. The Hass gives the ice cream a nicer texture, because it is richer in fats and is subsequently more creamy. If you do opt for a larger avocado, then half the fruit (as per the ingredient list) will be too much. The banana/avocado ratio should be about 50:50.
Place the banana and avocado in a food processor.
Add the vanilla, if using.
Blend until completely smooth.
Place in a small container, cover, and put in the freezer.
30 minutes later, remove from the freezer, stir well, re-cover and put it back. Repeat every half a hour or so for the first 3 hours (we use the microwave timer as a reminder!). This extra step ensures that the ice cream is as creamy as possible.
The ice cream is at a 'soft serve' consistency after around 4 hours and takes a few more hours to become completely firm.
Serve with a sprinkle of wheat germ (if desired) and enjoy with your baby!
Find out why we call the avocado 'nature's perfect baby food'
Pin It