Mmmm – homemade baby food doesn't get any better than this!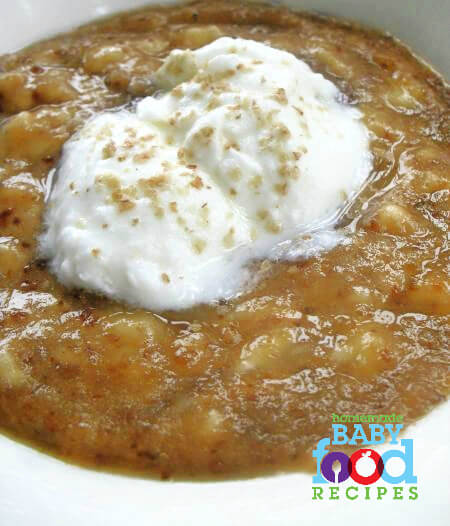 Today's recipe is for a deliciously simple dessert or breakfast, with a classic flavour combination your little one will love!
What's more, it's a dish containing plenty of important nutrients, too…
Dietary fibre from the apples to keep baby 'regular'!
Lots of vitamins and potassium from the banana
Iron from the raisins and wheat germ
Lots of calcium from the yogurt to strengthen baby's teeth and bones
To Make Baby's Apple and Banana Compote with Cinnamon Cream Topping, You Will Need…
*1/2 apple, peeled, cored and sliced
1/2 ripe banana, mashed
1 heaped teaspoon raisins
drop of vanilla (optional)
1 tbsp natural yogurt (learn how to make your own!)
pinch ground cinnamon
1/2 tsp wheat germ
*Use a sweet dessert apple (we have some suggestions here)
Place the apple slices in a small saucepan with the raisins.
Add a little water and cook on a low heat until the apple and raisins are tender. You can add a little more water if necessary as the apple is cooking, but don't add too much – and don't overcook – or the apple will become watery and flavourless.
Mash the apples and raisins lightly (or puree if necessary).
Combine with a drop of vanilla (if using) and the mashed banana in baby's serving bowl.
Stir the cinnamon into the natural yogurt, then use it to top the fruit. Sprinkle with wheat germ and serve whilst the apple is still warm!
Why not try some more nutritious …
Apple baby food recipes
Banana baby food recipes
Pin It