Baby's Apple and Banana Parfait – a sophisticated name for a simple dish, which layers fruits and creamy yogurt to make a satisfying breakfast or a delicious dessert.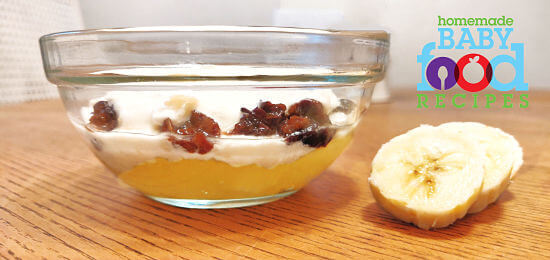 Ideal from around 7 months onwards, this dish contains ground flax. Whilst wonderfully healthy, flax can have a mildly laxative effect – if your baby is under 7 months of age, we'd recommend omitting if from the recipe for now.
Learn more about using flax in your baby food recipes
To Make Baby's Apple and Banana Parfait You Will Need…
2 tbsp applesauce
3 tbsp natural Greek yogurt
2 tbsp mashed banana
2 tsp ground flax seeds
1 tbsp raisins
Before you start, soak the raisins in warm water (or, if you're in a hurry, simmer them gently) until tender. Mash well or blend in a food processor until smooth.
Stir the mashed banana into the yogurt – this will provide the sweetness in the recipe.
Spoon the applesauce into your baby's bowl, followed by half the yogurt, then the raisins, then the rest of the yogurt and top with the flax.
Serve immediately (this dish doesn't keep too well as the banana may discolour).
More breakfast ideas
More information about using raisins in your baby food recipes
Homemade yogurt recipe
Pin It