Today we have a great recipe for a simple apple custard that your baby will love.
Unlike many custard recipes, this one is sugar free and uses only egg yolk – not the white – making it suitable for babies from 6 months onwards who have been separately introduced to all the ingredients beforehand.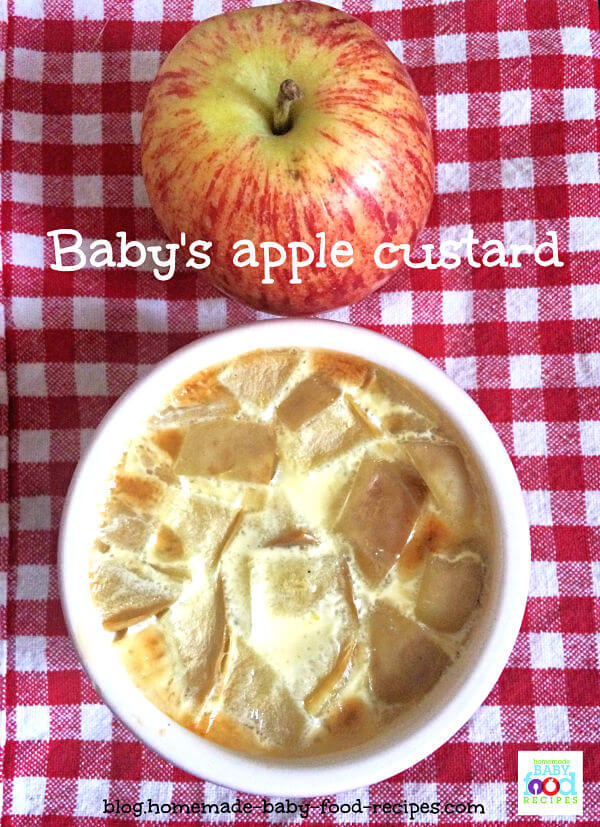 Here's what you'll need to make Baby's Apple Custard…
2 large beaten egg yolks
6 fl oz (3/4 cup) milk – you may use whole milk or breast milk (we have received feedback that the custard will NOT set well with formula, so it's best avoided in this recipe)
1 tsp vanilla extract
1 small, sweet apple, cored and diced (you can either peel it or leave the skin on – see this page for more information about unpeeled fruit)
Simmer the apple in a very little water until tender, then mash thoroughly, puree, or leave 'chunky' (as pictured) for older babies.
Put the apple into a small oven-proof dish, or divide into 2 ramekins.
Preheat oven to 350 degrees (180 deg C).
Stir the beaten egg yolk and the vanilla into the milk, then pour the mixture over the cooked apple.
Sit the dish in the middle of a baking pan and pour in hot water until it comes about halfway up the side of the dish (this creates a simple bain-marie!).
Bake for 25-30 minutes until the custard has set.
Cool and serve chilled.
And if you'd like to see MORE great baby dessert recipes sent in by visitors to our site, then…
Visit our baby dessert recipes page here

More yummy baby food recipes with eggs
Pin It