Today's baby food idea was inspired by a recipe passed to us by a friend. Her recipe also involved lots of Mexican cheese and spicy salsa… so we thought we'd tone it down a little and turn it into a meal that little ones could enjoy too.
And this is the result… a ridiculously easy, nutrient-packed dish just brimming with the 'good' fats your baby needs as he grows and which are particularly useful for the healthy development of his brain.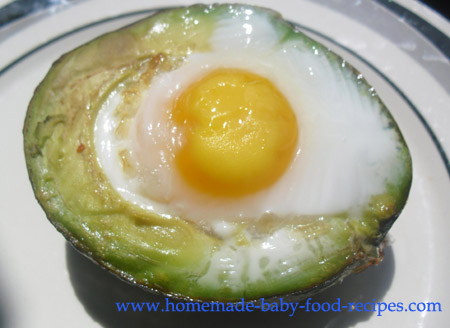 This recipe is ideal for your baby once he's been introduced to whole eggs. The texture is wonderfully creamy and easy to manage and the flavour is delicately delicious. This is a nice dish to share with your little one, particularly if you used a large avocado to prepare it.
To Make Baby's Baked Eggy Avocado You Will Need…
1/2 ripe avocado, pit removed*
1 egg
*We used a Hass avocado for this recipe, for the simple reason that we find Hass avocados tastier, creamer and just all-around better than the larger, Florida-style variety!
Preheat the oven to 375 deg F.
Break the egg into a small bowl.
Cut around the hollow in the avocado left by the pit to make it larger (however, if you're using a large avocado, the hollow may be big enough already).
Pour the egg into the hollow. For a small Hass avocado, you might find that – even if you enlarge the hollow a little – it's still too small for the whole egg. So what we did was spoon the nutrient-dense yolk in first, then add the egg white a spoonful at a time until the hollow was filled.
Place in the oven and bake until the egg is cooked (ours took 20 minutes for the white to be firm and the yolk to be cooked through).
Cool to a safe temperature and serve… no bowl required!
If the taste is a little TOO subtle for your baby, then sprinkle the avocado with grated Cheddar before baking. Alternatively, add a little sprinkle of your baby's favourite fresh herbs, or even a touch of spice… nutmeg would be yummy!
Pin It