There are three things we love about this recipe…
It's VERY easy to prepare.
It turns oatmeal into a finger food – great for babies who love to feed themselves but struggle with oatmeal on a spoon.
It makes a fabulous, time-saving breakfast – just bake a batch when you have time, cut into portions and store in the refrigerator or freezer, ready to warm when needed!
This dish is soft, although the oats provide a little more texture when served like this than they would in regular oatmeal. It's suitable for babies who are already enjoying finger foods, and who have already been introduced to all the ingredients.
Feel free to use which ever fruits your baby enjoys – we tend to always use the banana, as it provides natural sweetness to the dish, but often substitute the strawberries for blueberries, which taste fab! Extra sweetness comes from the pureed raisins and applesauce – but you may choose to add a little brown sugar if it's not quite sweet enough.
To Make Baby's Banana 'N Strawberry Oatmeal Slice You Will Need…
1 cup of rolled oats (not instant oats)
1 tbsp wheat germ
1/2 tsp baking powder
pinch salt
1 tsp cinnamon
3 tbsp pureed raisins
2 eggs
3/4 cup milk
2 tbsp unflavoured Greek Yogurt
2 tbsp applesauce (try making your own, with naturally sweet apples)
1 banana, mashed
4 sweet, ripe strawberries, thinly sliced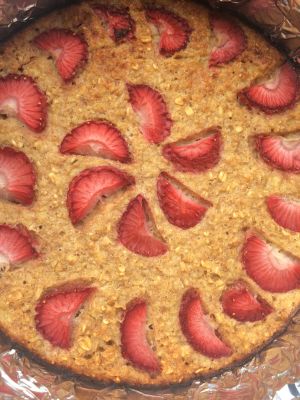 Preheat oven to 375 degrees F.
Take two medium bowls. In one, combine all the dry ingredients – in the other, combine everything else, except the strawberries.
Thoroughly mix the wet and dry ingredients together.
Grease a small baking pan, then put in a layer of strawberries.
Pour the mixture into the pan, then top with the rest of the strawberries.
Bake for around 30 – 35 minutes until the top is golden and the oatmeal feels firm and set.
Pin It