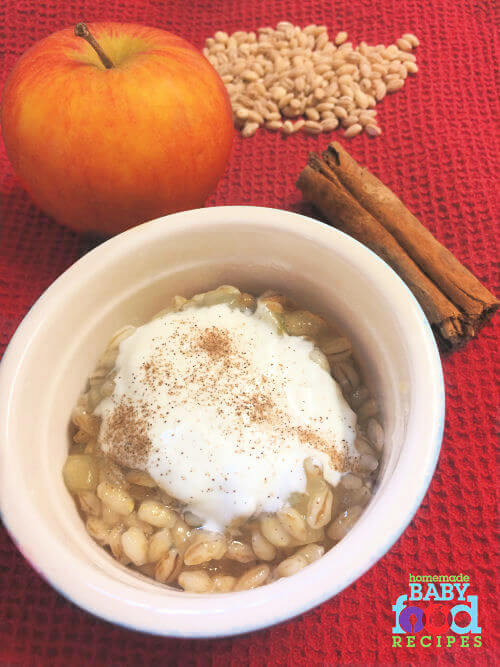 Today's dish is extremely easy to make – but it sure does pack a punch in terms of nutrition!
Containing the goodness of whole grain, the calcium of yogurt and the myriad of nutrients provided by fresh apple, this is a wonderfully tasty and completely sugar-free dessert for your baby!
Although the ingredients are appropriate for babies from 6 months onwards, the barley does provide quite a bit of texture. For that reason we recommend saving this recipe until your baby is enjoying little 'lumps' in his food – OR try increasing the amount of applesauce and pureeing the barley and applesauce together before topping it with the yogurt.
To Make Baby's Barley and Apple Dessert You Will Need…
2 tbsp barley (hulled is the most nutritious if you can get it – as it's unavailable here, we used pearled)
2 tbsp sugar free applesauce (or homemade, made with sweet dessert apples)
1 generous tbsp natural yogurt
pinch of cinnamon
Cook the barley according to the directions on the packaging.
Combine the barley with the applesauce. When possible, we like to use freshly made applesauce so that's it's still warm when we serve the dish (mmm).
Top with the natural yogurt and sprinkle with cinnamon.
Serve as a healthy dessert… this also makes a fabulous breakfast too!
Make ahead tip: You can prepare the barley/applesauce mixture ahead of time and freeze into individual portions. Simply thaw them and top with the yogurt and cinnamon as needed – don't freeze this dish with the yogurt topping in place.
Now try…
More barley baby food recipes
Baby dessert recipes sent in by our readers
Pin It