We called this recipe 'Beautiful Beet Puree' because there really is no other word to describe it. The healthiest natural foods are always those with the boldest, most vivid colours… and foods don't come much more brightly coloured than the beet (known as beetroot in some countries).
A fantastic source of antioxidants, beets have a wonderfully tempting sweetness, which makes them just perfect for tiny taste buds.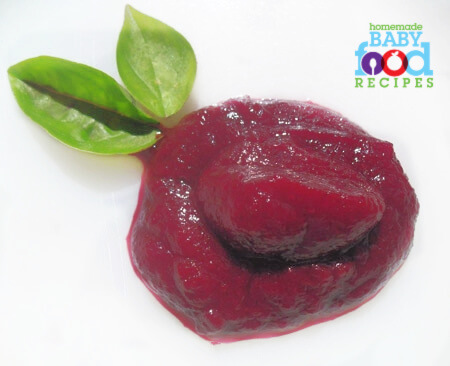 In this recipe, we've 'warmed up' the beets' sweetness with a little fresh ginger, and the addition of the spices gives this earthy puree an aromatic flavour that's absolutely delicious! We guarantee that you will love this vegetable treat as much as your baby and it will become a regular addition as a side dish at the family meal!
Note: In this recipe we roast the beet. Now, we don't recommend you turn on the oven for a whole hour just to cook one beet! What we like to do is plan our baby food menu for several days ahead, then bake/roast what's needed all in one go. For example, at any one time we might have a couple of beets (wrapped in foil), a sweet potato in its skin, a foil parcel of chicken and another of fish, all cooking together in the oven.
You then have your basic ingredients for several of our recipes already prepared – and you can quickly assemble your baby's meals when needed!
Another bonus?
To Make Baby's Beautiful Beet Puree You Will Need…
1 2 inch beet – just scrub and trim off the ends and cut in half (no need to peel)
olive oil
1/2 celery stalk, chopped
2 fl oz (1/4 cup) low sodium or homemade chicken stock or vegetable stock
1/4 to 1/2 tsp fresh ginger, peeled and minced
little pinch each of cinnamon and ground cloves
Drizzle the beet with olive oil, wrap loosely in foil and bake in the oven at 375 deg F for one hour, until tender.
Meanwhile, heat a little more olive oil in a small pan and saute the celery for several minutes until soft.
Pour the stock into the pan, then add the ginger, spices and cooked beet.
Simmer gently, covered, for 5 mins.
Allow to cool briefly, then transfer to a food processor and puree until smooth (alternatively, use a hand blender to puree the mixture right in the pot). The beet skins will blend right into the puree and your baby won't even notice them!
Pin It