Today we have a simple recipe for you that baby can enjoy as a cool dessert, or a delicious summer breakfast!
Packed with bone-building calcium and juicy, vitamin-rich berries and peach, this creamy treat for babies from around 6 months+ is sweetened with banana. The cream cheese gives it a pleasant 'tang' which our little ones love – however, if your baby finds the flavour too strong, simply replace the cream cheese with another tablespoon of yogurt (but do bear in mind that the texture will likely be thinner as a result).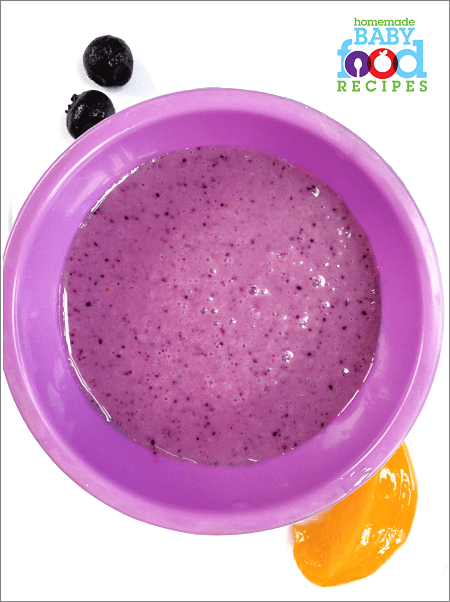 The vanilla in the recipe is optional, but we find it a welcome addition. For added nutrition for older babies, you may like to sprinkle the finished dish with wheat germ or milled flax seeds.
To Make Baby's Berry Blend You Will Need….

1/4 peach, pitted and peeled*
10 blueberries*
1 tbsp natural yogurt
1 tbsp reduced sodium cream cheese
1/4 ripe banana
couple of drops of vanilla extract (optional)
*If, like us, you live in an area where fresh fruit is not always easy to come by, you can substitute canned or frozen peach and blueberries. If you choose canned fruit, be sure it's packed in juice rather than syrup.
Simply place all ingredients in a blender and process until smooth. If you prefer a thicker texture, add a little more banana. Serve immediately.
Pin It