Today's vegetarian homemade baby food recipe is brimming with flavour and nutrients, including lots of beta-carotene from the squash plus protein and iron from the garbanzo beans.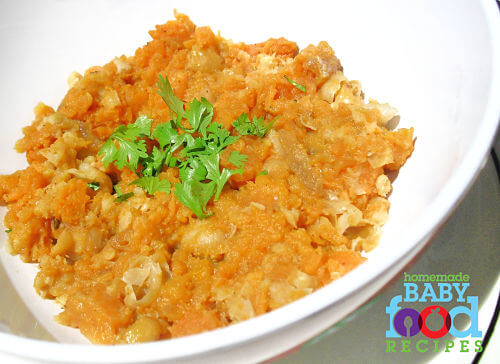 This is a very mild curry, ideal from 6-7 months of age (once baby has been separately introduced to all the ingredients). We like to mash it up and serve it with naan or roti/chapati, but you can also serve it with rice, pureeing it completely if your baby prefers a smoother texture.
Please note: Garbanzo beans are also known as chickpeas.
To Make Baby's Butternut Squash and Garbanzo Bean Curry You Will Need…
8 oz (1 cup) diced butternut squash
7 oz (around half a can) garbanzo beans – if they are not salt free, then triple rinse before using
2 tsp oil
1/2 small onion, chopped
1/4 tsp ground cumin
1/4 tsp ground coriander
1/4 tsp turmeric
2 tsp fresh coriander/cilantro, chopped
4 fl oz (1/2 cup) water
1 fl oz (1/8 cup) unsweetened coconut milk
Heat the oil in a saucepan and saute the onion for a few minutes until tender. Stir in the spices and cook for another minute.
Add the diced butternut squash then gradually stir in the water.
Bring to the boil, then reduce the heat and simmer, covered, for around 10 mins until the butternut squash is fork tender (add a little more water if the mixture looks too dry at any point).
Stir in the garbanzo beans and coconut milk, then warm very
gently for a few minutes.
Mash or puree as necessary, then sprinkle with fresh coriander and serve!
More recipes with chickpeas/garbanzo beans
More butternut squash baby food recipes
More curry recipes for baby
More vegetarian baby food recipes
Pin It