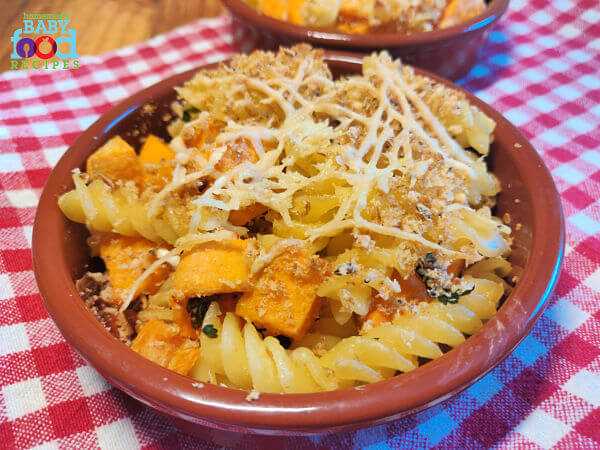 Today's recipe is perfect for busy parents! Not only does it serve as a nutritious and complete meal for baby, it also makes a super accompaniment to mummy's and daddy's meal too, which helps you keep preparation time to a minimum.
(Please note – you may need to add a little seasoning to the adults' portions, but you can do this after cooking).
We love this dish as it combines so many nutritious elements…
Whole grain pasta
Beta-carotene rich butternut squash, which also provides a range of vitamins and minerals
Calcium-packed cheese
This dish is also versatile – it's soft, but textured, so you can chop it well for younger babies who can manage soft lumps, or serve it as a finger food to older babies. What's more, the leftovers freeze very well, so if you decide not to serve this to the whole family as a side dish, then you can save the leftovers as future meals for your little one.
To Make Baby's Butternut Squash and Pasta Bake You Will Need…
1 butternut squash (around 1 1/2lb), peeled, seeds removed and cut into 1 inch cubes
8 oz (about 4 cups) uncooked whole wheat pasta
4 tbsp olive oil
1 medium onion, chopped
2 garlic cloves, crushed
8 oz (1 cup) ricotta cheese
4 oz (1 cup) grated Parmesan cheese
handful of fresh parsley, chopped
around 4 oz (1 cup) soft whole wheat bread crumbs (here's how to make them)
2 tbsp unsalted butter
Preheat the oven to 400 deg F (200 deg C).
Toss the squash cubes in 2 tbsp of the olive oil, then transfer them to a greased baking dish.
Cook in the oven for 30 mins until golden and tender, shaking the dish gently from time to time.
In the meantime, cook the pasta according to the directions on the pack. Drain well.
Heat the remaining 2 tbsp of olive oil in a frying pan and add the onion and garlic.
Cook for a few minutes until tender.
In a bowl, combine the pasta, cooked squash and onion/garlic mixture with the half of the Parmesan cheese, half of the parsley and the ricotta cheese. Mix well.
Transfer the mixture to a greased 2 quart baking dish, then top with the breadcrumbs, the rest of the Parmesan cheese and the rest of the parsley. Dot with the butter.
Bake uncovered for around 15 minutes until the cheese has melted and the breadcrumbs are golden.
You'll find more tasty butternut squash baby food recipes here
Pin It