There are so many great reasons to make these muffins for your baby…
They are a good way to encourage your little one to eat more vegetables!
They are a convenient finger food and make a great snack when you're out and about.
They're ideal for batch cooking and freezing, then thawing and serving for breakfast on a busy morning.
Older kids (and parents) love them too!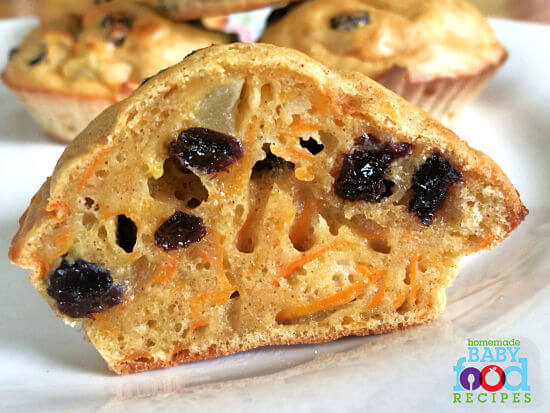 This recipe produces 6 totally delicious muffins with a wonderfully soft texture. They are very easy to gum and ideal for babies who have already been introduced to all the ingredients.
Although we've used butternut squash, the recipe works equally well with carrots or pumpkin.
And not only is the recipe versatile, it's very quick to prepare and virtually foolproof!
To Make Baby's Butternut Squash Muffins you Will Need…
1/2 cup grated butternut squash
2 tsp applesauce (we like to use the chunky homemade variety!)
1/4 cup milk (use whole milk or formula)
1 egg, beaten (learn about introducing eggs)
1/4 cup raisins
1/2 cup plain flour
1/2 tsp baking powder
1/2 tsp ground cinnamon
1/2 tsp ground nutmeg
1 tbsp brown sugar*
*Optional – but we found the muffins benefited from a little extra sweetness
Preheat the oven to 350 deg F.
Take 2 bowls.
In the first bowl, combine the squash, applesauce, milk, beaten egg and raisins.
In the second bowl, combine the flour, baking powder, ground cinnamon, ground nutmeg and brown sugar(if using).
Mix the wet and dry ingredients together – the result will be a fairly liquid mixture.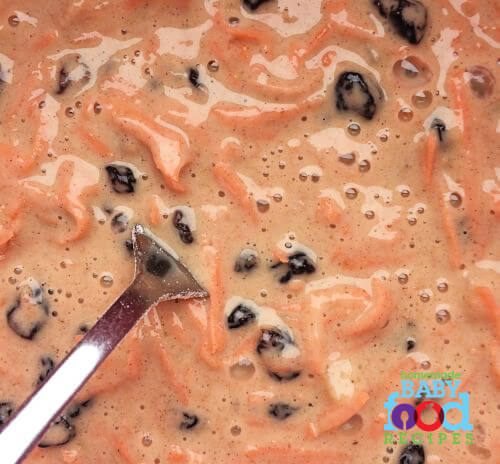 Divide evenly between 6 holes in a  greased muffin tin, or use silicone baking cups (below).
Pop in the oven and cook for 15 to 20 minutes, until the muffins are golden and spring back if you press them gently.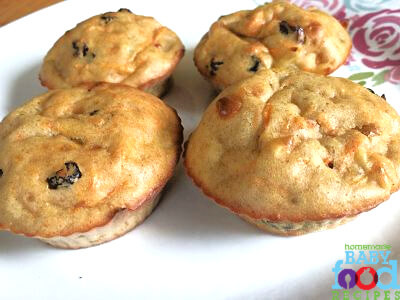 Do you like making muffins but HATE cleaning up?
We use these Reusable Silicone Baking Cups
(Amazon) for making our muffins. We've NEVER had them stick – they pop right out and the cups take two seconds to clean… better than scrubbing a muffin tin!
More yummy recipes…
Pumpkin & Apple Muffins with Flaxseeds
Peanut Butter & Banana Muffins
Pin It