Carrot and cumin make the perfect combination, and in today's easy-to-prepare recipe, the cumin elevates a simple carrot soup to a whole new level!
Ideal for babies from 6 months of age – and particularly suitable for babies already enjoying carrots and ready for a slightly more robust flavour – this nutrient packed blend is tasty enough for the whole family to enjoy! It also freezes well, so we recommend making a nice big batch and transferring the leftovers to the freezer, so you have plenty on hand for those busy days when it's hard to find time to spend in the kitchen.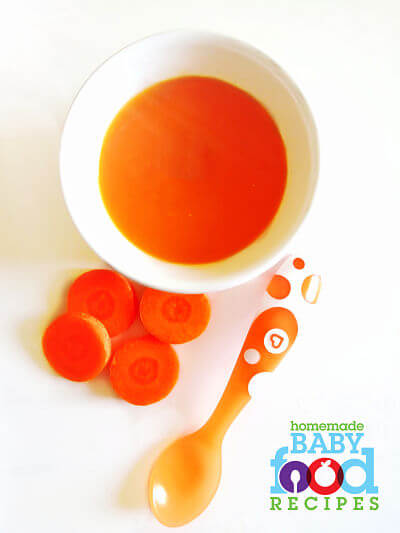 To Make Baby's Carrot and Cumin Soup You Will Need…
2 tbsp olive oil (or for a healthy and flavourful twist, try coconut oil)
1 lb carrots, peeled if not organic and sliced
1/2 onion, chopped
2 cups (16 fl oz) reduced sodium or homemade chicken stock
1/2 cup pure, unsweetened apple juice
1 tsp ground cumin
1 tbsp pure Maple Syrup (optional)
pinch ground allspice
Heat the oil in a saucepan and saute the onion and carrots for a few minutes until they begin to turn golden.
Add the cumin and allspice, then pour in the chicken stock and apple juice and bring to the boil.
Reduce the heat and simmer, covered, for 15 to 20 minutes, until the carrots are tender.
Allow to cool, then puree in a blender, or right in the pot using a hand blender. Whisk in the Maple Syrup if using (it adds an irresistible touch of sweetness).
Warm if necessary and serve with a teaspoon of natural yogurt on top if desired.
Pin It