Packed with the goodness of whole eggs, fresh tomato and nutritious cheese and soft enough for even toothless tots to manage, this is a breakfast you'll want to make often for your little one!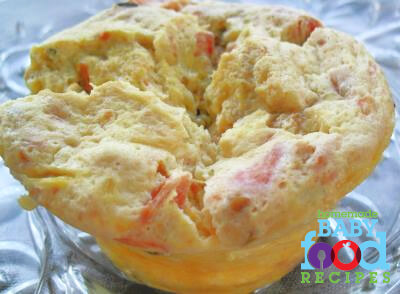 We've called it a souffle, although it probably doesn't quite fit the definition of a 'proper' souffle, particularly since it's oh-so-easy to make! But we LOVE this recipe as it's so versatile – it can be fed from a spoon, served as a finger food or used as a baby led weaning recipe. It's also great served hot or cold (ideal for picnics!) – and the texture, whilst soft and easy to 'gum', is firm enough to allow you to cut it into slices or cubes to make self feeding easier.
It almost looks 'bread-like', doesn't it – yet it's no harder for little ones to manage than scrambled eggs!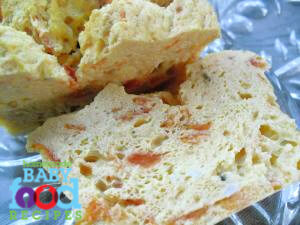 This recipe is ideal for babies who have been introduced to whole eggs (more information here) and tomatoes (here's our guide to introducing tomatoes).
The recipe makes enough for you and baby to share – or you can save some and serve it chilled or warmed through later (we described it as a breakfast but it's a great baby food recipe for lunch time too!). This dish doesn't freeze well, so only make as much as you'll use within 24 hours.
To Make Baby's Cheese and Tomato Breakfast Souffle You Will Need…
2 eggs
1 1/2 tbsp milk (or, for a touch of luxury use half and half or single cream)
4 oz (1/2 cup) fresh, chopped tomatoes (peel first for younger babies – here's how)
pinch thyme
1 small garlic clove, crushed (optional)
little olive oil
2 tbsp grated cheese (we used Swiss, but Parmesan or Cheddar cheeses could be used too)
Heat a little olive oil in a frying pan and add the chopped tomato, thyme and garlic (if using).
Cook, stirring, until almost all of the moisture from the tomato has evaporated (around 10 minutes).
Remove from the heat and put the cooked tomato into a small bowl.
Add the remaining ingredients and whisk everything together.
Grease a small, oven proof dish (we used a 3 1/2″ ramekin).
Pour in the mixture.
Place in your steamer, cover and steam for around 30 mins, until the mixture has set and a knife inserted in the centre comes out clean. (If you don't have a steamer, then simply boil a pan of water, reduce to a simmer, sit a heat-proof strainer or colander on top, place your dish inside, then cover with a suitable saucepan lid).
Once cooked, leave to stand for 10 minutes, then run a knife around the edge and carefully turn it out.
Voila – your souffle is now ready for slicing, dicing and sharing with baby. Enjoy!
More delicious baby food recipes with eggs
Baby breakfast recipes from our readers
Pin It