Today we have a delicious sweet 'n savoury recipe for you combining the goodness of fresh mango with wholesome brown rice and tasty chicken.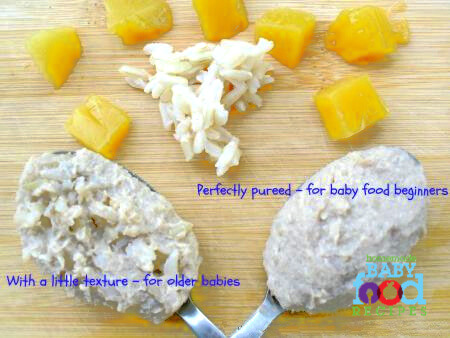 Mango – a rich source of a range of vitamins plus beta-carotene (the nutrient that gives mango its fabulous colour) – combines perfectly with savoury flavours.
Some babies can begin enjoying mango from around 6 months of age, although its best to check with your doctor first as it is classified as an 'emerging allergen' (please see our Mango Baby Food Recipes page for more information).
The brown rice in this recipe brings a whole host of nutrients to the dish, including vitamins, fibre and iron. Much better for your baby than processed white rice, brown rice is full of flavour as well as full of goodness (learn more about making baby food with brown rice here).
These ingredients taste delicious mixed with chicken, a wonderful source of protein which even contains vitamins and some antioxidants! (If you haven't already introduced chicken to your baby, you can find out how to do so here!).
To Make Baby's Chicken, Mango and Brown Rice Puree You Will Need…
1/2 chicken breast (boneless and skinless), chopped
1/2 ripe mango, peeled, pitted and diced
2 heaped tbsp cooked brown rice
4 fl oz (1/2 cup) water, or low sodium/homemade chicken stock, or unsweetened apple juice
Place the chopped chicken in a small saucepan and pour in the water, stock or apple juice.
Bring to the boil, then reduce the heat and simmer for 5 mins.
Add the mango and simmer for a further 5-10 mins, until the chicken is completely cooked through.
Remove the chicken and mango from the pot with a slotted spoon (reserving the cooking liquid) and transfer to a blender.
Puree, adding as much of the reserved cooking liquid as needed to create the texture you desire.
For a smooth puree:
Add the cooked brown rice to the mix and continue to puree (you will probably need a little more cooking liquid to get the texture just right).
For older babies:
Stir the cooked brown rice into the chicken/mango puree. This provides little lumps within a smooth base… an ideal texture for those getting to grips with 'bits' in their food!
To spice things up:
Add a dash of turmeric as you puree the chicken and mango, which provides a nice boost of flavour and added nutrients too!
More chicken baby food recipes (7 months+)
More chicken baby food recipes (10 months+)
Pin It