When we prepared this recipe this week, we had a fight on our hands to actually get enough of it into the bowl to take a photograph! That's because the delicious aroma that filled the house as the veggies were cooking was enough to bring the entire family to the kitchen waiting for a sample… and no one left disappointed!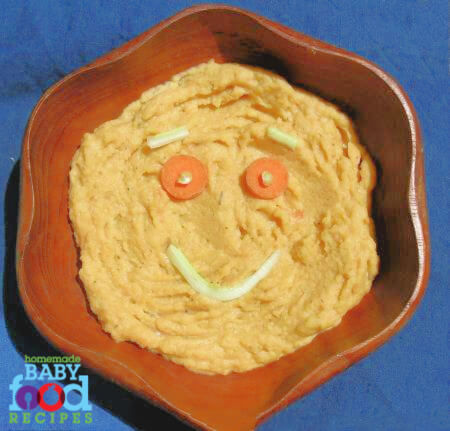 This recipe is a truly flavourful blend of fresh vegetables and nourishing chickpeas that can be left slightly chunky (for older babies) or served velvety smooth (for beginners). Vegetable faces are entirely optional!
Appropriate from around 6 months (please see this page for more information about introducing chickpeas, which are also known as garbanzo beans), this dish provides your baby with plenty of minerals (including zinc and iron), and protein.
A great dish for the whole family
Not only does this make an extremely delicious meal for baby, it works well for the rest of the family too (just ask ours!). You can either serve it mashed or pureed as a tasty side, or thin it with more stock or milk to create a satisfying soup.
The entire dish freezes well, so this is a great make-ahead recipe you can use in a variety of ways.
To Make Baby's Chickpea and Vegetable Puree You Will Need…
1/2 can chickpeas, drained (this is around 1 cup or 8 oz – look for low sodium canned chickpeas or triple rinse regular ones. You can also use a similar quantity of dried, cooked chickpeas)
1/2 small onion, chopped (optional but flavourful – the taste will be less robust if you choose to leave it out)
1 celery rib, cleaned and chopped
1 carrot, peeled (if not organic) and chopped
1 bay leaf
1 garlic clove, chopped
8 fl oz (1 cup) low sodium or homemade chicken stock
2 fl oz (1/4 cup) whole milk, breast milk or formula
big pinch dried thyme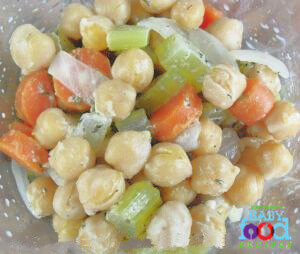 Combine all ingredients except for the milk and thyme in a saucepan.
Bring to the boil, then reduce the heat and simmer gently, partially covered, until everything is very tender (around 10 mins).
Drain, reserving the stock. Remove the bay leaf and discard.
Add the milk and the thyme and warm through gently for around 5 mins.
Either mash to the desired texture, or transfer to a blender and puree until smooth, adding back some of the reserved stock to get the texture just the way your baby likes it!
You'll find even more delicious chickpea recipes to tempt your baby here!
Pin It