This is truly a dish for the baby food connoisseur – and a real treat for the rest of the family too!
The recipe is calorie-rich and the custard is extremely easy to eat, making this dish ideal for babies who – for one reason or another – may have higher calorie requirements than usual.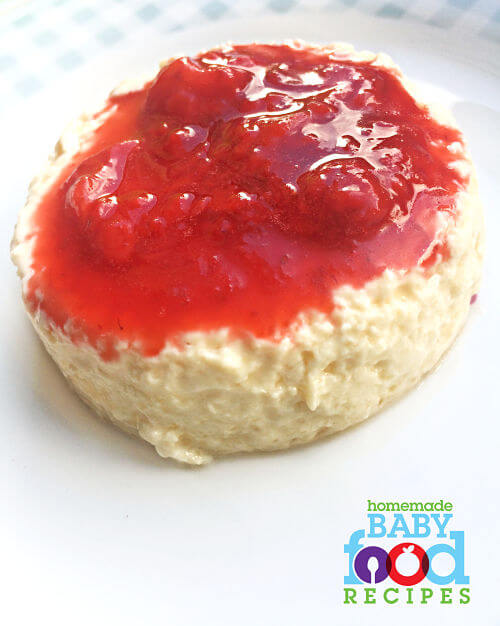 To Make Baby's Creamy Egg Custard with Strawberry Puree You Will Need…
1/2 cup double cream / heavy cream
1 1/2 tbsp whole milk
2 egg yolks
1 teaspoon honey (only if baby is at least 1 year of age. For younger babies use a little maple syrup, or simply omit altogether if you know that the fruit you will be using is very sweet)
4 very ripe, large strawberries, sliced
1/4 cup apple juice
Preheat the oven to 325 deg F (160 deg C).
Pour the cream and milk into a saucepan and heat until boiling (taking care that it doesn't boil over).
Remove from the heat and set aside.
In a small bowl, beat together the egg yolks and the honey (if using).
Pour them into the milk/cream mixture and stir well.
Divide the custard mixture between two ramekins.
Put the ramekins into a high-sided baking tray (since there are only 2 ramekins in this recipe, I sit them in a loaf tin).
Pour water into the tin until it comes halfway up the side of the ramekins.
Bake in the oven for around 45 mins, checking after the first 25 minutes. The custard should look golden on top, but if it starts to get too brown, cover the pan with foil until the baking time is completed.
Whilst the custard is cooking, simmer the strawberries in the apple juice until soft, then mash or puree as required. Set aside.
The custard is ready once it has set – you should be able to press it gently and it shouldn't be too 'jiggly'.
Remove the ramekins from the tray and sit them in a tray of cold water to cool them down. Then chill them in the refrigerator.
You can either serve the custard straight from the ramekin, or gently run a knife around the edge of the custard and turn it on to baby's plate.
Just before serving, top the custard with the pureed strawberry.
Delicious!
Learn more about offering strawberries to your baby
Pin It