Today's recipe is a fun way to combine eggs and veggies, creating a nutritious treat that your baby can eat with his fingers.
Ideal for breakfast or lunch, this recipe is perfect for babies who are already coping well with finger foods and have been introduced to whole eggs (you can learn more here about introducing eggs to your little one).
This dish is also very versatile – it works well with any veggies you can easily grate, including sweet potato, pumpkin, or even zucchini.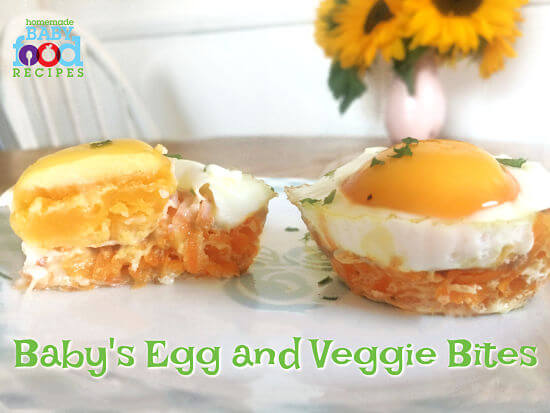 Getting the texture right…
Whilst preparation is quick and easy, you need to take a little extra care with the cooking time, as baked eggs can quickly get tough if they're left for too long.
For me, the perfect cooking time is 12 minutes, at which point the the eggs are cooked and well set, but haven't yet acquired the crispy coating that can get if you overcook them.
Your oven may be different, though, so my advice is to set your timer for 10 minutes, then check the eggs frequently after that. They can go from 'just done' to 'overcooked' very quickly!
You may prefer to try covering them individually with foil, which makes them less 'photogenic' but does allow you a little more leeway with the cooking time!
This recipes makes 2 servings – one for you and one for baby!
To Make Baby's Egg and Veggie Bites You Will Need…
2 small eggs
1 small carrot
2 tbsp grated Cheddar cheese
little chopped parsley (optional)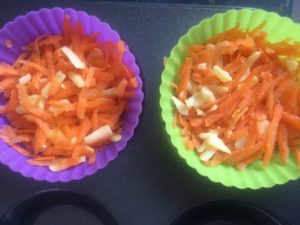 Preheat the oven to 360 deg F (160 deg C).
Grate the carrot (no need to peel if it's organic).
Place the grated carrot in a small bowl and mix with the cheese.
Either grease 2 holes of a muffin tin, or use Reusable Silicone Baking Cups (from Amazon)
(our favorite option, as nothing ever sticks and they are SO easy to clean!).
Place the carrot/cheese mixture in the bottom of each cup and crack an egg over each.
Place in the oven and bake for 10 to 15 mins, following the guidelines above to ensure you don't overcook them.
Sprinkle with the parsley (if using) and allow to cool to a safe handling temperature.
Cut into bite-size pieces and serve.
Try more delicious baby food recipes with eggs
Pin It