This quick and easy breakfast recipe adds a fruity twist to traditional oatmeal (or porridge) and ensures your baby receives a good helping of nutrients at the start of his day.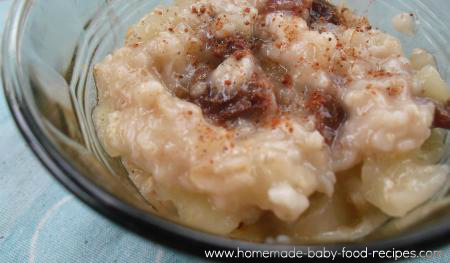 It's a particularly useful recipe if your baby is prone to constipation, comprising fibre-rich oats, raisins, pear and ripe banana… a truly constipation-busting combo!
It's also completely SUGAR FREE, sweetened naturally by the fabulous fruit it contains.
All the ingredients in this recipe are generally suitable for babies from 6 months of age, although – of course – you should always check with your doctor first. If more than one of the ingredients listed are new to your little one, then be sure to introduce them separately to him beforehand. This helps you spot any potential food allergies or digestive problems.
To Make Baby's Fruity Fiesta Breakfast Recipe You Will Need…
1 tbsp oats (old-fashioned, not instant)
3 fl oz (3/8 cup) water
1/2 small, very ripe banana, mashed (the riper the better if your baby is constipated)
1 small pear, peeled, cored and diced
1 tbsp raisins, chopped
1/2 tsp milled flax seeds (optional – but great for easing constipation!)
pinch nutmeg (optional)
Combine the oats, water, banana, pear, raisins and flax in a small saucepan over a medium heat.
Bring to the boil, then reduce the heat to very low and cover.
Simmer gently for 10 mins.
For older babies, happy with textures, you can serve the oatmeal at this point (texture shown in photo). For younger babies, place the ingredients in a food processor and process until smooth.
Sprinkle with the nutmeg just before serving.
More breakfast ideas for baby
More tips for dealing with baby constipation
Pin It