If you haven't yet included parsnips in your baby's menu, then he's really in for a treat with this delicious parsnip and carrot puree recipe.
Parsnips look like creamy coloured carrots, but actually remind me a little of bananas in flavour! They contain lots of nutrients for your baby (including vitamin C, vitamin K, magnesium, folate and potassium) and puree to a lovely creamy texture.
Avoid using very large parsnips when cooking for your baby, as these will contain a larger 'core', which can sometimes be a bit stringy. If you do need to use a large parsnip, then the best option is to cut out the core altogether.
Make sure that you have introduced the parsnip or carrot separately before combining them in this recipe, which will help you identify if either vegetable causes any kind of allergic reaction or digestive problem in your baby. The same applies to the nutmeg – if you'd like to include it, ensure that your baby is safely enjoying the vegetables first!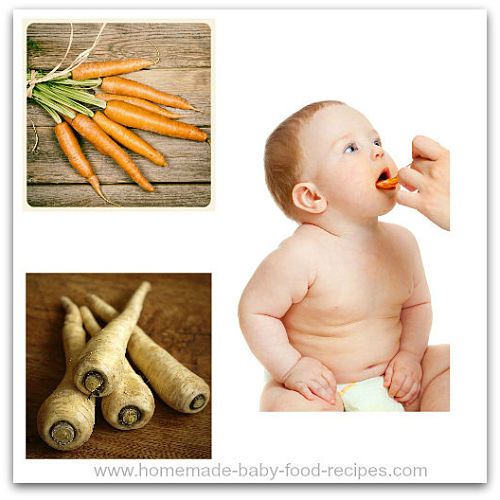 For baby's parsnip and carrot puree you will need…
1 medium carrot
1 medium parsnip
tiny pinch of nutmeg (optional)
Peel the carrot and parsnip, then dice.
Simmer in a little water until tender.
Drain (reserving the cooking liquid), then puree in a food processor, adding a little of the cooking water if you'd like a thinner texture.
Stir in the nutmeg and serve!
Variations
For a more robust meal, you can also add peeled, diced potatoes to the cooking pot.
If you're having difficulty getting your baby to eat vegetables, then we have two great tips to help him enjoy this meal:
Cook the carrots and vegetables in chicken or beef broth (stock) to add a tasty twist
Try cooking and pureeing the carrot and parsnip separately, then putting the two mixtures into separate sandwich bags. Next, snip a hole in the corner of each bag and 'pipe' the purees into your baby's feeding dish, creating alternating swirls of colour! Don't, of course, go to all this trouble for younger babies who simply won't appreciate your efforts – but older babies will find this visually appealing and may feel tempted to give veggies another try!
Pin It