The wonderful, rich colours of natural homemade baby food really come through in this recipe!
And whilst it may LOOK like a gourmet dish that must take ages to prepare, it only contains a few ingredients and is ready in under 15 minutes.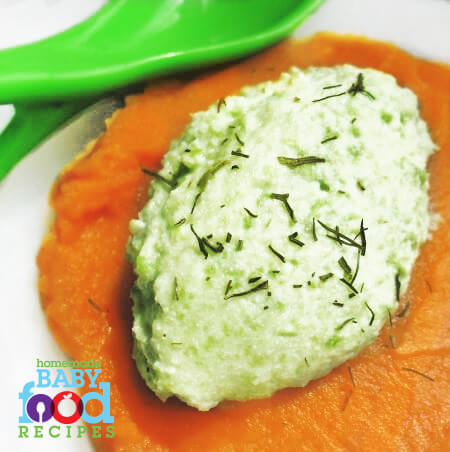 This puree – ideal for vegetarians and suitable for babies from around 6 months of age – contains all the goodness of calcium-rich ricotta cheese and nutritious peas (packed with vitamins and minerals), all on a bed of tempting and velvety sweet potato, for a healthy boost of beta-carotene!
In terms of taste, it's the perfect blend of savoury and sweet!
We love to have a little fun with the presentation of our homemade baby food and serving the two purees like this – one on top of the other – really creates an eye-catching dish. The beautifully contrasting colours are guaranteed to grab your baby's attention!
This recipe makes 2 to 4 portions of food depending on the size of your baby's appetite. You can keep any leftovers in the fridge for up to 48 hours. Whilst you may freeze the sweet potato puree, we don't recommend freezing the ricotta – although it's not harmful, it becomes very grainy on thawing.
For Baby's Baby's Pea and Ricotta Puree with Sweet Potato You Will Need…
1 small sweet potato, diced
3 heaped tablespoons peas (we used frozen)
2 tbsp ricotta cheese
1/2 tsp dill (optional – but it does add a lovely flavour)
Cook the sweet potato dice in a very little water or steam until tender. Transfer to a food processor – or use a hand blender – and puree until smooth.
Cook the peas – if you boiled the sweet potato dice, then cook the peas in the cooking water from the sweet potato.
Mix the cooked peas with the ricotta cheese and puree thoroughly.
Place a tablespoon of sweet potato into baby's bowl and top with a heaped teaspoon of the pea and ricotta puree.
Top with a little sprinkle of dill (if using) and serve!
Learn more about introducing peas to baby
Try more homemade baby food recipes with sweet potato
Pin It