This is a wonderful time of year to be cooking for baby, with so many fabulous foods around and appetites sharpened by the cooler fall temperatures!
So we decided to come up with a recipe that would incorporate several of those healthy foods into one highly nutritious and fabulously delicious finger food – and here it is!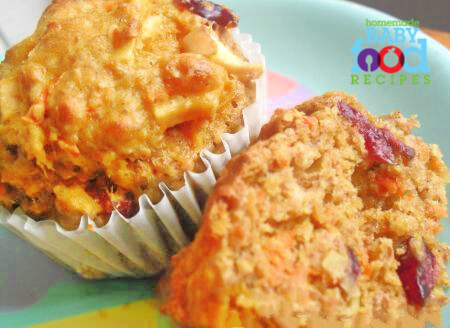 These Pumpkin and Apple Muffins with Flaxseeds are just as yummy as they look, but the most important thing is that they are quite literally bursting with goodness. Rich in beneficial Omega 3 fatty acids (from the flax), iron (from the wheat germ) and a whole host of vitamins and minerals from the fruits and vegetables, they make a SUPER way to get lots of nourishing nutrients into your little one if he's something of a picky eater!
Convenience food but healthy too!
We love cooking muffins like these to save for those busy days when we're on the go with our little ones.
That's because they're almost a 'meal in a muffin', comprising a combination of fruits, vegetables, grains, seeds, carbohydrates and protein!
And all these nutritious elements are contained in one convenient finger food that you can easily take out and about with you and allow baby to enjoy anywhere!
A versatile treat
Serve these Pumpkin and Apple Muffins any time that suits your baby! As well as a great on-the-go snack, they also make a brilliant breakfast or quick and easy lunch.
They're suitable for babies from AT LEAST 8 months of age who are coping well with biting and chewing.
If you make them just as described in our recipe, they're quite textured and chunky (see picture) although still soft, and really more suitable for babies of around 1 year of age. You can, however, decrease the texture to make them suitable for younger babies by…
Soaking the dried cranberries in warm water for half an hour before adding them to the mixture – or by simply leaving them out altogether.
Gently steaming the diced apple before adding it to the mixture. You can even mash it once steamed if you really want to smooth out the blend – but do bear in mind that the apple does soften considerably from its raw state if added to the recipe without steaming beforehand.
To Make Baby's Pumpkin and Apple Muffins with Flaxseeds You Will Need…
2 oz (1/2 cup) toasted wheat germ
3 oz (3/4 cup) milled flaxseeds
6 oz (1 1/2 cups) whole wheat flour
1 tsp baking powder
2 tsp baking soda
1 tsp salt
1 1/2 tsp ground nutmeg
1 1/ tsp ground cinnamon
6 oz (3/4 cup) brown sugar – you can reduce this quantity if you wish, but we found this to be just right
6 fl oz (3/4 cup) whole milk
1 tsp vanilla extract
2 medium eggs, beaten
3 dessert apples, cored and finely chopped (we left the skins on, but remove them if you prefer)
8 oz (2 cups) grated pumpkin
4 tbsp dried cranberries (substitute with raisins if you wish)
Preparation is very easy…
Preheat the oven to 350 deg F (170 deg C).
Combine the wheat germ, flaxseeds, flour, sugar, baking powder, baking soda, salt and spices in a large bowl and mix well.
Stir in the rest of the ingredients.
Line 18 holes in your muffin pans with paper cases and spoon in the mixture.
Cook for 20 minutes until risen and golden.
This recipe makes 18 regular muffins. They're delicious served warm and can be enjoyed by the whole family (you might like to add a little cream cheese frosting too!). Freeze leftover muffins for up to one month (although we don't believe that leftover muffins really exist – at least not in our house!).
Enjoy – and please let us know how your little pumpkin liked them!
Using flax in your baby food recipes
More pumpkin recipes
More apple recipes
We love…
…these Reusable Silicone Baking Cups
for making our muffins. We've NEVER had them stick – they pop right out and the cups take two seconds to clean… better than scrubbing a muffin tin!
Also available in the UK
Pin It