Quinoa is a wonderfully healthy food. Packed with protein and containing ALL the essential acids your baby needs, it's ideal for vegetarian and non-vegetarian babies alike. What's more, it's not a common allergen and cooks quickly – always a bonus for us busy mums (and dads)!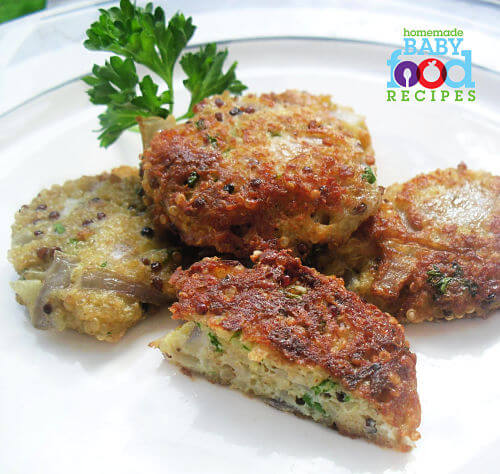 Today's recipe uses cooked quinoa to create tasty little patties. Delicately crispy on the outside – and nice and soft on the inside – these Quinoa Bites are ideal for babies who can already bite and chew, from around 10 months onwards. We tend to divide our mixture up and add extra seasoning and spice to one portion for the adults – the rest of the mixture, with its subtle flavour, is perfect for baby and a great way to help your baby enjoy quinoa if he prefers to eat with his fingers rather than a spoon!
To Make Baby's Quinoa Bites You Will Need…
1 cup cooked quinoa (we used a mixture of red and regular quinoa, but either will do!)
2 small eggs, beaten
2 tbsp chopped fresh parsley
pinch freshly ground black pepper
1/2 onion, finely chopped
2 tbsp grated Parmesan cheese
1 clove of garlic, crushed
1/2 cup fresh whole wheat bread crumbs
olive oil
This recipe produces around 16 Quinoa Bites.
Combine all the ingredients in a large bowl and allow to rest for 5 minutes, to give the bread crumbs a chance to soak up the liquid.
The mixture will still be very damp and loose – you might even think it's TOO loose for patties. But it's important NOT to allow it to be too dry, as the mixture dries out significantly whilst cooking and you will be left with dry, crumbly patties if there's not enough moisture to start with.
With your hands, form into around 16 loose patties.
Heat a little olive oil in a non stick pan over a medium heat.
Add the patties to the pan – we found it easiest to hold the plate of patties over the pan and slide them in one by one with a spatula. Press down on them carefully.
Cook for around 5 minutes until golden, then carefully turn and repeat on the other side.
When cooked, allow to cool to a safe serving temperature and serve just as they are, or with a dip or a sauce. Our little man LOVES them with applesauce.
Pin It