This may not be a cheesecake in the true sense of the word, but we think the flavour of this fabulous sugar free dessert is very reminiscent of real cheesecake without the 'naughty' ingredients!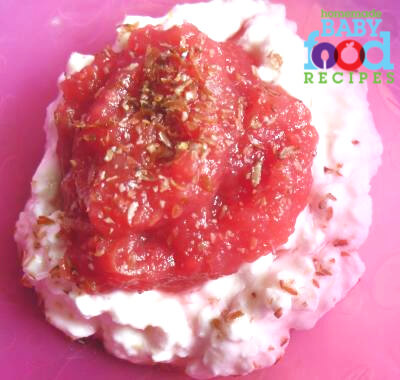 The basis of this dessert is low sodium cottage cheese. This protein rich food has a great texture for babies – it contains VERY soft little 'chunks' which are extremely easy to gum and allow baby to gently make the transition from smooth purees to lumpy foods.
Its mild cheesy flavour pairs up perfectly in this recipe with pureed fruit, which adds sweetness without table sugar. Note that we used a dessert apple (a very green apple like a Granny Smith may give the dish a tartness that baby might find unappealing).
We also used raspberries, but if you're concerned that it may be a little too early for raspberries for YOUR baby (like strawberries, they do trigger reactions in some babies – more information on our strawberry page), then switch to baby-friendly blueberries instead!
The whole thing is topped off with nutritious flax – a wonderful ingredient that has too many benefits to list here (that's why we've devoted a whole page to it here!).
Please note that we don't recommend freezing this dish – you could, however, make the puree ahead of time and freeze THAT in portions, then thaw and serve them over fresh cottage cheese as and when required!
TIP: Although this recipe creates a cool and creamy dessert, you could also serve it as a unique breakfast!
To Make Baby's Raspberry and Apple Cheesecake Dessert You Will Need…
1/2 dessert apple
around 8 raspberries*
2 tbsp low sodium cottage cheese
1/2 tsp milled flax
*We can rarely get fresh raspberries here in the Bahamas, so in our recipe we used frozen ones, thawed, which work perfectly!
Preparation is as simple as can be!
Just peel and core the apple, then cut it into dice.
Steam the dice or simmer in a very little water for a few minutes until tender. Just before they are ready, add the raspberries.
Blend the apple and raspberry together – we did ours just to the point where a little texture still remained, but you can blend until completely smooth if desired (this is better achieved with blueberries than raspberries).
Spoon the puree (warm or chilled) on top of the cottage cheese and sprinkle with the flax.
Serve immediately, or store the puree in the fridge and spoon over the cottage cheese just before serving.
Learn more about cottage cheese for babies
Pin It