You don't often see sardines used as an ingredient in baby food recipes… but we think that's a shame. Sardines are tasty, low in mercury, economically priced and – above all – highly nutritious.
You can learn more about these delicious fish in our post Five Ways to serve Canned Sardines to Your Baby.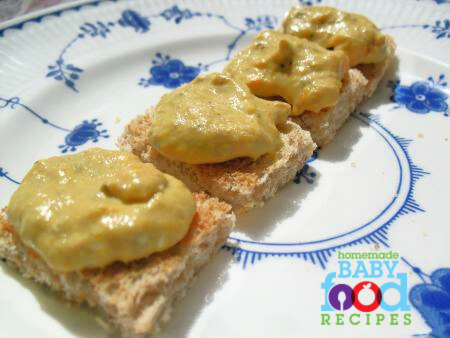 Today's recipe contains just 3 ingredients but produces a mouthwatering spread that you can serve on squares of toast, as a dip, or as a unique sandwich filling. It also makes an interesting topping for a baked potato! It's ideal for babies from at least 6 months of age who have been separately introduced to all the ingredients.
Bringing your baby not just the goodness of sardines, this super spread also contains a nice boost of calcium and a healthy dose of beta-carotene from the sweet bell pepper!
You can learn more about introducing bell peppers to your baby here – and this section explains how to roast a bell pepper quickly and easily.
To Make Baby's Sardine and Sweet Pepper Spread You Will Need…
1 cooked (canned) sardine, mashed thoroughly (the bones are edible and can be crushed with a fork)
1 tbsp cream cheese
1/2 sweet bell pepper (we used orange), roasted and de-seeded
Place the cream cheese and roasted pepper in a food processor and blend until thoroughly combined and smooth.
Stir in the mashed sardine.
Baby's spread is ready! Serve as suggested… and do try some yourself, particularly if you think you don't like sardines. This recipe may just convert you!
Pin It