"My baby doesn't like vegetables"… it's one of the most common feeding problems we encounter and one about which we've received many emails from frustrated parents.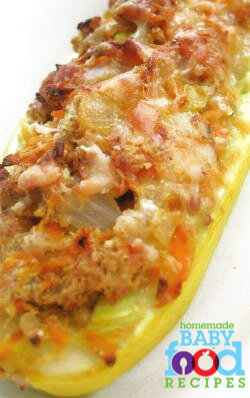 So today we're going to share a recipe with you that uses a little creativity to transform the simple summer squash into a gourmet delight that will have your baby clamouring for seconds!
Stuffed Squash Bites are suitable for babies who are able to feed themselves and make a great food for baby led weaning. The texture is nice and soft and the flavour is really quite delicious – we've always made several of these at a time, served one to baby and used the rest as a side dish to accompany the main family meal.
This is also a fabulous lunch recipe for baby – despite being rich in veggies, the addition of the fresh breadcrumbs makes this a satisfying meal in itself.
To Make Baby's Stuffed Squash Bites You Will Need…
1 yellow summer squash (you could substitute this with zucchini/courgette if you prefer)
1 clove of garlic, crushed (optional)
1/4 small onion, finely chopped
1/2 small carrot, peeled and grated
2 oz (1/2 cup) grated cheese (we used Parmesan cheese, but Cheddar cheese is good too)
little olive oil
pinch freshly ground black pepper (optional)
1 slice whole wheat bread*
* Transform the bread into breadcrumbs by placing in a food processor. You can even used a hand blender, but be sure to cover the bowl! Slightly stale bread works best.
Preheat the oven to 350 deg F.
Cut the squash in half lengthwise, then use a spoon to scoop out the flesh, leaving a shell around 1/4 inch thick.
Brush the shells with olive oil and place in a small baking dish in the oven for 10 minutes, until slightly softened.
Chop the squash flesh well.
Heat a little olive oil in a small saucepan.
Saute the onions for a few minutes until softened, then add the garlic and saute for a further 2 mins.
Add the grated carrot and the chopped squash and cook gently for around 5 more minutes.
Transfer the mixture to a bowl and stir in the bread crumbs, the black pepper (if using) and most of the cheese.
Using a spoon, pile the mixture into the softened squash shells, pressing down to fit everything in, then sprinkle the remaining cheese on top.
Return the stuffed shells, in their baking dish, to the oven and cook for 20 minutes, until the cheese is melted and golden and the squash is tender.
Cool to a safe handling temperature, then cut into bite-sized wedges that baby can pick up. Serve warm.
Variations…
You can easily experiment with the veggies in this recipe, sneaking in all sorts of vegetables your baby may not usually like (grated pumpkin, butternut squash and sweet potato also work well in place of the carrot).
You can create a bolder flavour by adding your baby's favourite herbs – we like to throw in a little thyme!
And you can increase the nutritional value of this recipe with the addition of a little wheat germ or milled flax seeds to the stuffing mixture.
We hope your family enjoys this recipe as much as ours!
More advice and ideas to help you if your baby won't eat vegetables…
Pin It