Today's recipe is for a mouthwatering risotto with robust flavour. It's absolutely perfect for the baby food aficionado and will really appeal to those tiny taste buds – but it's also quite versatile, so you can 'tone down' the flavours if you wish!
Usually, we like to keep our recipes as simple as possible, because we know from experience just how trying it can be sometimes to cook anything too complex with a little one around!
But this recipe DOES require more attention than most, because there's quite a lot of stirring involved… meaning you can't stray too far from the cooking pot! The entire dish can be made in around 25 minutes, though, so if you CAN squeeze that into your day, it's really worthwhile!
The recipe below yields enough yummy risotto for mummy (or daddy) and baby to share for lunch. Leftovers may be frozen – however, this does change the texture a bit (although it's still perfectly edible!).
This Sweet Potato and Apple Risotto is best suited to older babies who are happy dealing with texture. You could add more liquid and puree the dish, but we feel that – as it takes some time to create that yummy risotto texture – it would be defeating the object to then go on and puree it!
This can be a vegetarian dish if you use vegetable stock in the recipe. Alternatively, you can use chicken stock and even throw in a little cooked meat to make a heartier meal.
To Make Baby's Sweet Potato and Apple Risotto You Will Need…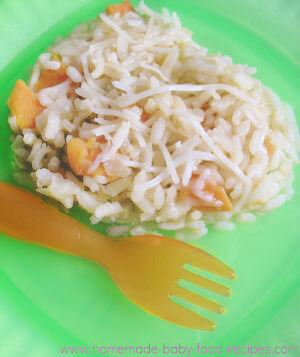 1 tsp unsalted butter
1 tsp olive oil
1/4 onion, chopped (omit this for a much milder flavour)
1 small garlic clove, crushed (again, omit this if you are looking for a very mild flavour)
4 heaped tbsp arborio rice (we used Village Harvest)
1/2 small sweet potato, peeled and diced
1 small apple, peeled, cored and diced
8 to 10 fl oz (1 to 1 1/4 cups) low sodium or homemade chicken or vegetable stock
handful of grated Parmesan cheese
pinch freshly ground black pepper (optional)
Note: Different varieties of arborio rice tend to require different amounts of liquid to produce perfect results. Check the ratio of liquid to rice suggested on the packaging of your rice and adjust our recipe accordingly.
You can substitute brown rice in this dish for a healthier option, but we've never quite been able to achieve the same texture. Another option is to try barley – it's certainly different, but in a good way!
Heat the oil and butter in a frying pan.
Add the onion and garlic (if using) and cook until tender.
Add the rice and stir well, until all the grains are coated with oil.
Cook for two minutes, stirring.
Meanwhile, heat the stock in a small saucepan.
Add the diced sweet potato and apple to the rice, then pour in 1/4 cup of the stock.
Cook, stirring, and allow the rice grains to soak up all the liquid, Take care that the stock is not boiling – the rice grains should be simmering gently.
The liquid should all have been absorbed after about 5 minutes. At that point, add another 1/4 cup of stock and stir well.
Again, cook until the stock is absorbed, then add another 1/4 cup. Repeat the process until the rice is perfectly tender – ours took 25 mins in total and we used 1 1/4 cups of stock.
Although you can leave the pot briefly, frequent stirring is essential, so don't leave your risotto unattended for too long!
Finally, add the black pepper (if using) and stir in the cheese (we saved some to add as a topping). Cover and leave for a few minutes so the cheese melts and adds creaminess.
Cool to a safe temperature and serve!
Buon appetito!