There are three reasons why we LOVE today's homemade baby food recipe…
It's super-nutritious, containing healthy fatty acids, lots of calcium and plenty of vitamins and minerals.
It combines all the components for a complete meal in one dish – so clean up is nice and quick!
It tastes absolutely DELICIOUS!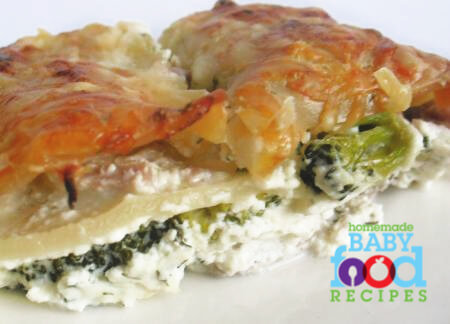 It also has the ideal texture for babies – soft, 'saucy' and easy to gum in the absence of teeth!
This is a 'family-sized' recipe – but if you do not plan to share it with your baby, then you can divide it into portions and freeze them for future use (use within one month). Whilst you can use any canned tuna in this recipe, we recommend chunk light tuna, packed in water (here's why).
This dish is ideal for older babies enjoying some texture, who have already been introduced separately to these ingredients.
To Make Baby's Tuna and Broccoli Lasagna You Will Need…
8 oz (1 cup) cream cheese
8 oz (1 cup) ricotta cheese
8 fl oz (1 cup) milk – use whole milk or, if the dish is just for baby, you can use breast milk/formula
3 tbsp fresh dill, chopped (optional)
1 medium head of broccoli, cut into small florets
1 box dried lasagna sheets
4 x 6 oz cans of tuna, drained
3 tbsp Parmesan cheese, grated
Preheat the oven to 375 deg F, 180C.
Mix the ricotta and cream cheeses with the milk and dill (if using). Stir well to remove any little lumps.
Grease a shallow baking dish (about 10 inches long) and pour one third of the cheese sauce into the bottom.
Add half of the tuna and half of the broccoli, then cover with a single layer of lasagna (don't overlap the pieces). The amount of lasagna you use will depend on the size of the sheets.
Add another third of the cheese sauce, then the rest of the broccoli and tuna.
Cover with another layer of lasagna, then finish with the rest of the cheese sauce.
Top with the Parmesan cheese, then bake for 30 to 40 minutes, until golden.
Chop or puree to suit your baby.
We hope your little one enjoys this recipe –
You can find some more Fantastic Fish Baby Food Recipes here
And here are some more yummy broccoli baby food recipes