Brown rice is highly nutritious, rich in B vitamins, iron, fibre and essential fatty acids. Its benefits far exceed those of white rice, which is basically just brown rice with most of its goodness removed!
The flavour of brown rice is quite different to white, and it can be hard as an adult to make the switch if you're accustomed to enjoying only white rice with your meals. So it's a good idea to introduce brown rice to your baby at an early stage, and encourage his palate to accept its delicious, nutty flavour before a preference for white rice creeps in!
Brown rice takes a little longer than white rice to boil – but another way we like to cook it is by baking it. This seems to give it a fluffier texture than boiled rice – it's also very easy to do!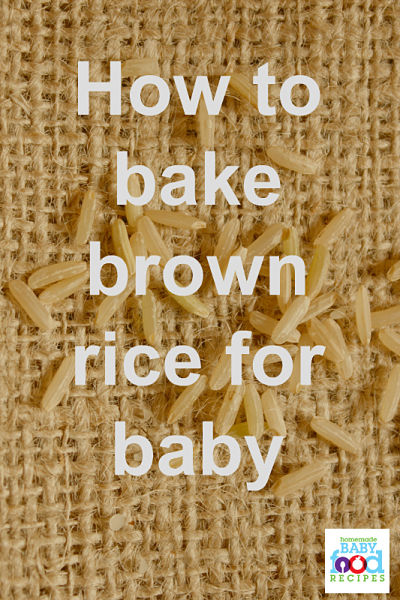 To bake brown rice for your baby you need…
1 cup brown rice
1 1/2 cups water
1 stick celery (optional)
Preheat the oven to 350 deg F/180 deg C.
Pour the rice into a frying pan/skillet over a medium heat. Stir constantly for a few minutes, until the grains turn a golden colour. This step is optional, but makes the rice extra tasty – try it and see!
Meanwhile, chop the celery and saute until tender. This step is also optional – but including sauted celery in this dish flavours the rice throughout and may make it more tempting for your baby.
Put the rice, water and sauted celery into an oven-proof dish with a lid.
Cover and place in the oven.
Bake for 45 mins, or until the rice has absorbed all of the water.
Cool to a safe temperature and serve!
TIP!
It's a good idea to store uncooked brown rice in the refrigerator.
Brown rice has an oily 'germ' (a nutritious part of the grain that's removed during the production of white rice). It's possible that the germ can become rancid if the rice is not kept cool enough.
Learn more about brown rice and try more recipes
Try our top ten ways to flavour rice
Pin It