Baking apples for your baby is such an easy way to prepare them, and the texture of the end result is just perfect for your tiny diner!
When choosing apples to bake for your baby, look for naturally sweet varieties – this eliminates the need for sugar or other sweeteners. We recommend trying any of the following
Golden Delicious
Red Delicious
Fuji
Pink Lady
Gala
Red Rome
You can give your baby baked apples from 6 months of age – if you choose to use any of the extra ingredients in this recipe, be sure that you are not introducing two new foods at the same time (in other words, if your baby has not had apples OR cinnamon before, introduce the apples alone at first. After a few days have passed with no signs of allergic reaction or digestive upset, you can then introduce the cinnamon, too).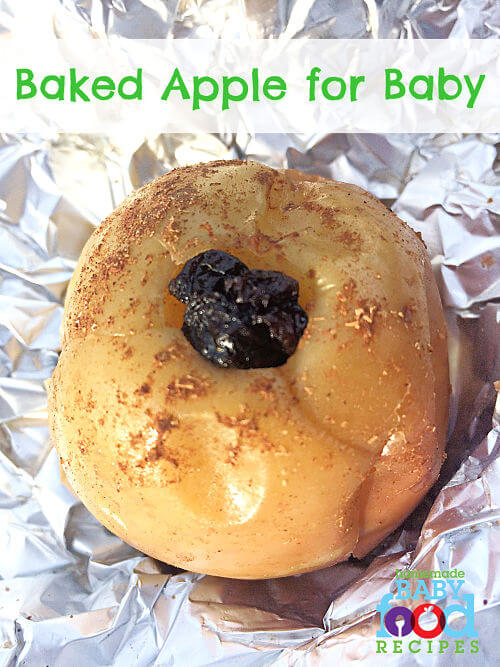 How to bake apples for your baby
Preheat the oven to 350 degrees F, 180 deg C.
Wash the apples and core them (use a sharp knife, a corer or a melon baller for this).
Sprinkle a little cinnamon or nutmeg on the apples.
For older babies, try filling the apples with raisins (you may like to add a little maple syrup if raisins are used).
Wrap the apples tightly in aluminum foil and seal.
Place in the oven and bake for around 30 – 45 minutes, until the apples feel 'squashy'. (The smell that will fill your house as they cook will make your mouth water!)
Remove from the oven and allow to cool a little.
Carefully unwrap the foil – the escaping steam will be very hot. Be careful, too, not to lose any of the delicious cooking liquid in the bottom of the packet.
You can now either spoon the cooked apple straight into baby's bowl, ready for serving, or remove the skin and mash well. If you have used raisins, ensure these are mashed well also, unless your baby is comfortably chewing foods. If you prefer, you can puree everything in a blender (in which case you may want to leave the skin on).
Refrigerate or freeze the leftovers.
Yummy… why not throw in a few extra apples and make this a healthy dessert for the whole family!
Pin It