Today's recipe for Banana and Melon Cream is very easy to prepare and makes a tasty dessert for your baby.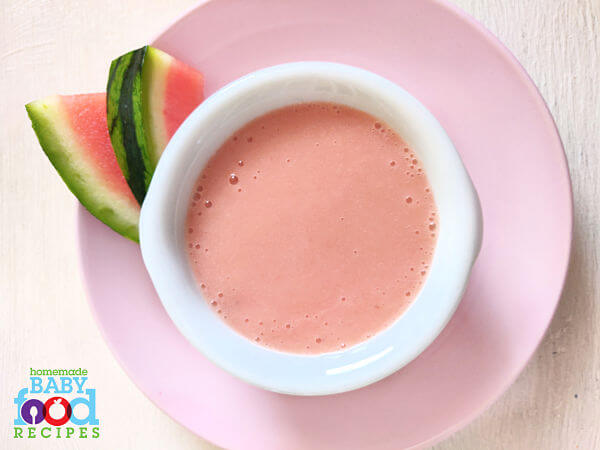 This dish brings together three extremely nutritious ingredients – banana, melon and calcium-rich natural yogurt – and it's suitable for most babies from 6 months of age (although you should always check with your doctor before introducing any new foods). The texture of this puree is smooth and creamy – just perfect for baby food beginners!
The best variety of melon to select when preparing any dish for your baby is cantaloupe (also known as rockmelon in some parts of the world).
Cantaloupe is an excellent source of potassium, vitamin C and beta-carotene (which contributes to the orange colour of the fruit's flesh) – in fact, cantaloupe is far more nutritious than any other type of melon.
TIP: If your baby is teething, you can make this recipe super-soothing by preparing and freezing the cantaloupe beforehand!
You can use store-bought natural yogurt for this dish, but it's actually very easy to make your own! In fact, once you get started making your own yogurt you may never go back to the store-bought version – there's something absolutely delicious about homemade yogurt that our children LOVE (plus, it's very cheap to make, which is always a bonus!).
Learn more about introducing and making your own yogurt

To Make Banana and Melon Cream for Baby You Will Need…
1 slice melon (to produce around 1/2 cup when diced)
1 ripe banana
1 tbsp natural yogurt
couple of drops of vanilla extract (optional)
little pinch of ground ginger (optional – but it really adds a lovely warming aspect to the flavour))
Wash the melon thoroughly, then remove the skin and scrape away any seeds. Cut into pieces.
Peel the banana and chop.
Place the fruit, together with the yogurt (and vanilla if using), in a food processor and blend until smooth. Alternatively, you can mash the ingredients together by hand (unless you froze the melon beforehand).
Sprinkle with the ginger and serve to your baby immediately.
(NOTE: This dish doesn't keep well as the banana tends to discolour – nor do we recommend freezing it as it takes on a strange texture!).
More about melon baby food
More banana baby food recipes
Pin It