Back in April we posted our recipe for Cheese and Tomato Breakfast Souffle – a savoury recipe that produes an egg-based finger food that can be easily cut into squares and is very quick to put together.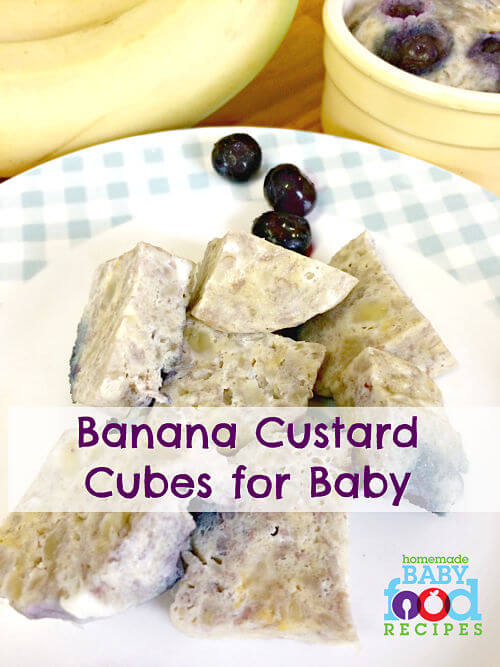 Today we're sharing a slight variation on this recipe that produces a somewhat sweet dish rather than a savoury one. Our little man used to enjoy this when he first mastered the art of feeding himself and it's a great way to serve egg to those doing baby led weaning.
The recipe is only slightly sweet, so we used to serve the cubes drizzled with plenty of applesauce. Our little man still eats them now (age 2) with Maple syrup, but you can try using other sweet fruit purees as a dip or sauce for the cubes.
You can also try using softened raisins in the recipe itself rather than blueberries to provide added sweetness – just soak them in warm water for an hour beforehand then chop them finely.
This is a great breakfast recipe and the cubes make a perfect finger food for babies with no teeth, as they're very easy to gum.
To Make Banana Custard Cubes for Baby You Will Need…
2 eggs, beaten
1 medium ripe banana, mashed well
1 tbsp blueberries (fresh or thawed from frozen)
applesauce to serve (here's a recipe to make your own)
Thoroughly stir all the ingredients together.
Grease a ramekin or small dish and pour in the mixture.
Place in a steamer, cover and steam for 30 minutes.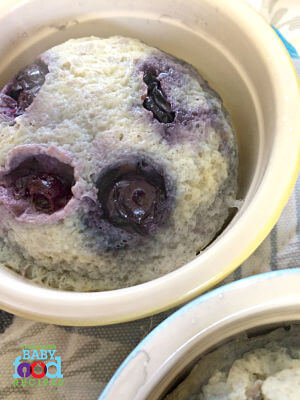 (Alternatively, place the ramekin inside a heat-proof strainer set over a pan of boiling water and cover with a large saucepan lid).
After 30 minutes, the mixture should look rather like a fluffy muffin. Check for done-ness by inserting a knife into the centre of it – it should come out clean.
Remove from the steamer, run a knife around the edge to loosen it, then gently turn the 'custard' out.
Cool, then cut into cubes and serve with applesauce.
Store leftovers in the fridge for up to 24 hours.
More breakfast ideas for baby
More egg recipes
More banana recipes
More blueberry recipes
Pin It