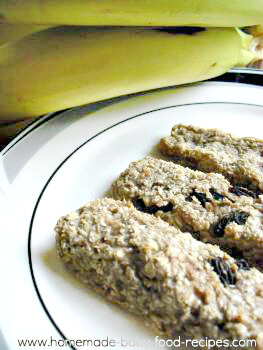 This is one of those baby food recipes that quickly becomes a 'staple' of your little one's diet once you discover how easy it is to put together!
Perfect for babies who are able to feed themselves (including baby led weaning), just look at what these bars have to offer…
They're sugar free
They contain NO eggs – ideal if you want to avoid eggs at the moment or if your baby is allergic to them
They contain no wheat and very little to no gluten (depending on where your oats are from)
They take just a few minutes to prepare and only 10 to 15 minutes in the oven.
They're a nutritious snack for baby to eat at home and also ideal for when you're out and about!
Please visit our Banana Baby Food page for the recipe – and please do let us know how much your baby enjoys them!
Pin It