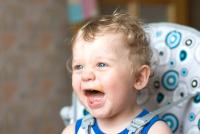 Breastfeeding is one of the best ways to give your baby a strong immune system from birth, because breast milk is packed with your antibodies which are then passed on to baby.
But there are certain foods that can help give your little one's immune system a boost as he begins to rely on solids as his main source of nutrition. It's a good idea to include these foods in your baby's diet on a regular basis – and particularly so when there are nasty bugs around, against which you'd like to help him build natural protection.
And please note – the addition of sugar to baby food is NEVER recommended. Aside from the damage it does to your little one's developing teeth, sugar severely impairs the white blood cells' ability to fight infection. Another good reason to give it a miss!
Sources:
Office of Dietary Supplements – Zinc
Office of Dietary Supplements – Vitamin C
Spicing Up of the Immune System By Circumin
Struggling to feed a baby with a cold?
Learn how chicken broth works wonders
Discover foods that help relieve congestion – and those to avoid
Pin It