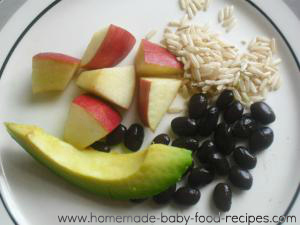 On our Protein Foods for Baby page, we explain the importance of protein in your baby's diet and how to ensure your little one is getting enough.
If your baby is following a vegetarian diet, then you probably already know that experts recommend combining certain foods – called complementary proteins – in order that the incomplete proteins in these foods join together to provide complete protein for your child. (There's also more information about this on the link to our 'Protein' page above).
One of the most common food combinations that provides complete protein is rice and beans. Our new homemade baby food recipe for a Black Bean and Brown Rice Dinner puts these two foods together with a couple of other ingredients for mouthwatering results!
Click here to see this easy-to-prepare recipe offering complete protein to baby…
You may also like…
More black bean baby food recipes
More brown rice baby food recipes
More vegetarian recipes (6 months+)
More vegetarian recipes (10 months+)
Pin It