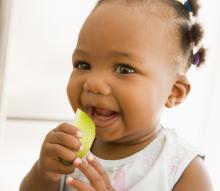 Baby knows best – it's official!
New research has shown that babies allowed to feed themselves from the outset via Baby Led Weaning tend to eat healthier AND maintain a healthy weight as they grow, compared to spoon fed babies.
The research, conducted in the UK and published in BMJ Open, studied 155 children aged from 20 months to 6.5 years, whose parents completed a survey about their little one's eating habits and their preferences for certain food types (carbohydrates, proteins etc).
63 of the parents were found to have spoon-fed their babies, whilst 92 allowed their children to feed themselves finger foods.
The results showed that the Baby Led Weaning group tended to have a significant preference for carbohydrates and the spoon-fed group seemed to display a preference for sweet foods. No other difference in preference was noted.
It was acknowledged by the report's authors that babies feeding themselves would be more frequently exposed to carbohydrates in their foods, as foods like toast and pitta bread are easy to hold and often tend to be introduced early on to baby led weaners. However, the report states
…our data show that exposure per se did not influence preference for carbohydrates, so another factor must be driving preference here. Presenting carbohydrates to infants in their whole food format, such as toast, rather than a pureed form may highlight awareness of perceptual features (such as texture) that is masked when food is pureed.
In other words, babies seem to enjoy the textural quality of whole foods like toast.
And the key finding of this research was that…
There was an increased incidence of (1) underweight in the baby-led group and (2) obesity in the spoon-fed group.
The conclusion thus drawn by the authors of this report was that
infants weaned through the baby-led approach learn to regulate their food intake in a manner, which leads to a lower BMI and a preference for healthy foods like carbohydrates.
Encouraging news indeed if you've already adopted – or are thinking of adopting – the Baby Led Weaning approach to introducing solids, particularly if you may have been worrying that the baby-led method doesn't provide ENOUGH nutrition.
Harmony in the highchair!
Allowing your baby to feed himself can be an invaluable technique if he seems generally unwilling to eat.
In the past, we've often recommended that parents introduce more finger foods into their babies diets if the dining table has turned into a battleground, thereby letting baby 'take the reins' in terms of how much he eats.
In almost every case, feedback has been good – many babies are naturally very independent and seem to have an innate need to assert this independence at mealtimes.
In the vast majority of cases, babies will eat MUCH better when left to their own devices (under supervision, of course!) and will eat what they NEED, rather than what you might THINK they need (we discuss baby's ability to self-regulate food intake here).
Not only is this a healthy approach to take, it's also the most harmonious – many parents have written back to us to say how much HAPPIER their babies are when they're in control (and how much happier THEY are with less stress at mealtimes).
To find out more about the Baby Led Weaning method..
Visit our Complete Guide to Baby Led Weaning
We not only discuss the 'How to's' but also address the typical concerns associated with this weaning style, such as fears over choking and inadequate nutrition.
You may also like to check out our list of Ideal First Foods for Baby Led Weaning or our simple Baby Led Weaning recipes.
Are you already spoon-feeding your baby?
Then check out the above links to learn how to successfully incorporate more finger foods into your baby's diet.
We'd love your opinions on this new research or on Baby Led Weaning in general – please do leave your comments below!
Pin It