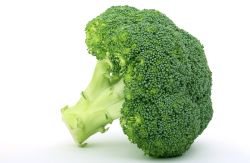 Broccoli – it has the reputation of being the veggie that kids love to hate.
But we think it's a reputation that this wonderful green vegetable doesn't deserve at all – and our children wholeheartedly agree!
Cooked properly, broccoli is quite delicious – and its superfood status makes it a very desirable part of baby's menu. Our little ones started enjoying broccoli from around 6 to 7 months of age. It was an instant hit then – and it's still the first thing they'll eat on their dinner plates now (yes, really!)
But what IS the best way to cook broccoli for baby?
At what age should it be introduced?
And – perhaps the most common question of all – WILL IT GIVE MY BABY GAS?
We answer all these questions and more – plus we share with you some simply yummy broccoli baby food recipes – here on our brand new Broccoli Baby Food page!
And if YOU have any broccoli baby food recipes to share – or any comments/questions about serving broccoli to your baby – please do leave a comment or contact us here!
Pin It