Pierogies (also known as perogies, pirogies and many other variations!) are little doughy dumplings of deliciousness that make a wonderful finger food for older babies.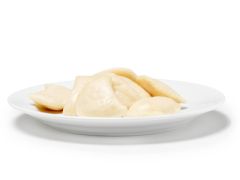 Pierogies are found in various forms across the world, but are usually semi-circular, stuffed pockets of unleavened dough which are boiled or baked. They can be filled with all sorts of ingredients – anything from savoury to sweet – so today's recipe uses a fruit and veggie combination for a little bit of both!
You can serve these to your baby once he is confidently biting and chewing – he doesn't necessarily need teeth, though, as the pierogies are very soft and gummable.
This baby finger food recipe is also egg-free.
To Make Butternut Squash and Apple Pierogies For Your Baby You Will Need…
For the dough:
4 oz (1 cup) all purpose flour
4 oz (1 cup) whole wheat flour
5 to 6 fl oz (around 2/3 cup) water
1 tbsp plus 1 tsp olive oil
For the filling:
1 small butternut squash
2 sweet apples
pinch nutmeg
pinch cinnamon
To make the filling…
Peel the butternut squash, remove the seeds (you can roast these for the grown ups as a tasty snack) and cut the squash into dice.
Core the apples and peel if necessary (here's how to decide). Cut the apples into dice.
Steam the butternut squash and apple dice until tender, or simmer them in a very little water or homemade chicken stock.
Transfer to a food processor, add the nutmeg and cinnamon and blend until smooth.
To make the dough:
In a bowl, combine the white and whole wheat flour, then make a well in the middle.
Pour in the water and olive oil and mix with the flour, using a wooden spoon, until a dough is formed. Add a little more water if the mixture is too dry.
Knead with your hands until the dough is smooth.
Turn the dough on to a floured surface and roll out to a thickness of about 1/8 inch (any thicker and your pierogies will be unpleasantly doughy!).
Cut the dough into circles (we use a drinking glass to do this). The size is up to you, but ours are about 3 to 4 inches in diameter.
Assembling the pierogies:
Put a teaspoon or two of the filling into the middle of each dough circle.
Brush a little water all around the edge of the circle, then fold the dough in half, forming a semi-circle with the filling inside.
Press the edges gently with your fingertips to seal.
To cook the pierogies:
Bring a large pot of water to the boil.
Drop in a few pierogies at a time and stir for a minute or two, so they don't stick to the bottom.
Cook them until they come to the surface (this usually takes a few minutes), then cook for one minute more.
Drain on a paper towel and serve when cool enough to handle!
Please do let us know if your baby enjoys this recipe – or if you have come up with your OWN baby-friendly pierogi fillings you'd like to tell us about!
More butternut squash baby food recipes
More apple baby food recipes
Pin It