Homemade soup is a wonderful food for babies – warming, nourishing and so easy to eat! Thanks to the subtle hint of ginger in the recipe, this carrot and ginger soup is particularly suited to the chillier days of winter and its magnificent colour tells you that it's just brimming with health-promoting beta-carotene!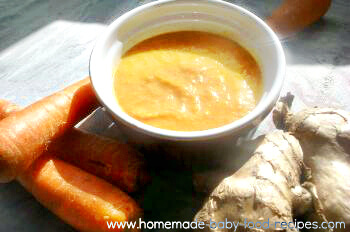 If you've never used fresh ginger in your baby food recipes,then we really recommend giving it a try. Used sparingly, it's flavourful rather than 'hot' and is revered for its ability to aid digestion. We've used it from 6 months of age – just a little at first, but gradually increasing in quantity as baby becomes accustomed to the taste.
You can read more about introducing spices and herbs to baby here
This recipe also contains onions. Although they may be introduced from 6 months of age, they may cause gas in some younger babies – so you can always save this recipe until later in baby's first year if you prefer.
If you'd rather not introduce ginger to your baby just now, then you can make this carrot soup without it – it still tastes good and still packs a powerfully nutritious punch for your little one!
To Make Carrot and Ginger Soup For Baby You Will Need…
1 lb carrots (peeled if not organic)
1 tsp olive oil
1 tsp unsalted butter
1 onion, roughly chopped
1 to 2 tbsp fresh grated ginger (peeled)*
32 fl oz (4 cups) low sodium or homemade chicken stock
2 fl oz (1/4 cup) whole milk or light cream
1 tbsp fresh parley (chopped)
*start with a small amount and increase to suit your baby's tastes
Slice the carrots.
In a medium saucepan, heat the oil and the butter together.
Add the onions and cook over a medium heat for about 10 minutes, until they are golden.
Add the carrots and ginger and toss together, then stir in 8 fl oz (1 cup) of the stock.
Bring to the boil, then lower the heat and simmer, covered, for 10 minutes.
Pour in the rest of the stock, then replace the lid and simmer for another 10 minutes.
Finally, remove the lid and turn the heat right up.
Boil the mixture rapidly, spooning off any frothy bits that appear on the surface, until the mixture has reduced by around one third. This step really concentrates and intensifies the flavour of the soup.
Remove from the heat and puree the mixture (we do it in the pot with a hand blender).
And now for the last step – stir in the milk/cream and parsley and warm through. (Note: whilst whole milk is not recommended as a main drink, it's acceptable to use it as an ingredient in your homemade baby food recipes, with your doctor's consent).
Baby's scrumptious soup is ready to serve.
This soup may be frozen if you want to make it ahead of time, but we prefer to freeze it BEFORE adding the milk/cream.
The soup is tasty enough for the whole family to enjoy – just add additional seasoning if required, after serving baby.
If your baby is ready to feed himself and this soup is just too runny for him to handle, just add 1 large, chopped potato to the carrots. This will give you a texture more like a puree than a soup.
Try more carrot baby food recipes
or
More healthy soup recipes
Pin It