The star component of our post today is the Ricotta and Thyme Bread – a bread that's rich in protein, calcium AND flavour!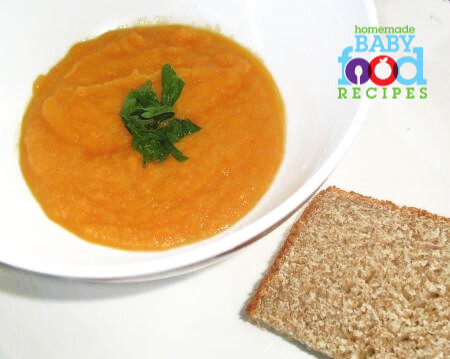 We love making (and eating!) our own bread. We got started when our first daughter was born, so we could be sure the bread we gave her was as nutritious as possible. Since our move to the Bahamas, we've made it a lot more often, as we really do miss European bread (not to mention the fact that sometimes the store on our little island runs out of bread altogether and making our own is our only option!).
You can add all sorts of ingredients to your homemade bread, often significantly increasing its nutritional value – and this Ricotta Bread is case in point. Paired up with a tasty soup (such as the carrot soup we suggest here) it forms a complete meal that everyone can enjoy.
The soup shown here is one of our 'go to' recipes as it's so easy – but we use the term 'recipe' rather loosely as we've never actually measured out any of the ingredients. Instead, we sort of 'throw' them together and hope for the best… yet the soup tastes perfect every time and all our children tell us how much they love it!
The soup is made with a combination of carrots and orange juice. Orange juice may cause a rash in some babies, often triggered by the acidity in the fruit. Although our little ones would sometimes get a rash around their mouths from eating actual segments of orange, the orange in this soup recipe never caused them any problems at all and they've all enjoyed it from 6 to 7 months of age.
If you're concerned about giving your baby orange juice at this point, you can either save this recipe to use later in your baby's first year, or simply replace the orange juice in the recipe with even more chicken stock. But you might still like to try the bread!
To Make the Ricotta and Thyme Bread for Your Baby You Will Need…
2 tsp instant yeast
2 fl oz (1/4 cup) tepid water
1/2 tsp sugar (necessary to activate the yeast)
1 egg
12 oz (1 1/2 cup) whole milk ricotta cheese
1/2 small onion, grated finely
2 tbsp olive oil
1 tsp salt
4 oz (1 cup) all purpose flour
8 oz (2 cups) whole wheat flour
1/4 tsp baking soda
1 tsp dried thyme
Combine the yeast, sugar and tepid water in a mixing bowl, stir gently once, then allow to stand for 10 minutes until the mixture looks frothy.
Stir in the egg, grated onion, ricotta cheese, olive oil, thyme and baking soda. Mix until thoroughly combined.
Carefully incorporate one cup of whole wheat flour. Once it's mixed in, add the second cup and mix again.
Add around half the all purpose flour and use your hands to mix in.
Turn the dough on to a floured surface and knead for 10 minutes. Whenever the mixture feels to sticky, add a little more flour.
Drizzle the dough with olive oil and use your hands to spread it over the surface.
Put the dough – oiled side down – into a loaf tin, pre-greased with olive oil.
Pull the dough into a rough loaf shape, then drizzle more olive oil over the top and spread out with your hands. Cover with oiled food-safe plastic wrap and allow to rise in a warm place for 1 1/2 hours.
Preheat the oven to 375 deg F.
Put the loaf into the oven and bake for 35 to 45 mins, until it sounds hollow when tapped.
Cool in the tin for a few minutes, then transfer to a wire rack.
The loaf will have a firm crust, but be nice and soft inside. Serve warm for maximum 'yum' factor!
To Make the Carrot Soup for Your Baby You Will Need…
1 bag of baby carrots or – more nutritious – 1 lb whole carrots, peeled and sliced
2 medium potatoes, peeled and quartered
2 garlic cloves, halved
fresh orange juice (with pulp if possible)
chicken stock
knob of unsalted butter
chopped parsley for a garnish (optional)
Melt the butter in a saucepan and add the potato and garlic pieces. Cook, stirring, until golden on the outside.
Add the carrots.
Here comes the 'hit and miss' part – pour in orange juice until it comes about halfway up the carrots, then pour in chicken stock until the carrots are just covered.
Bring to the boil, then lower the heat and simmer until the veggies are tender (approximately 15 minutes).
Transfer to a food processor or puree in the pot until completely smooth.
Serve, topped with a little chopped parsley if you wish!
Very easy – but surprisingly tasty!
Try our homemade whole wheat bread recipe
Try more homemade baby food recipes with carrots
Pin It