Today's recipe is incredibly easy to make and it's also a great way to use up leftover veggies… particularly over holiday time, when there are plenty of leftovers but not much time to cook!
We've used pumpkin puree in this bread pudding (you can use canned pumpkin – without the spice – if you like, which is still nutritious AND a fabulous timesaver). But you could also try using sweet potato, carrot or butternut squash purees instead – they'd all work equally well.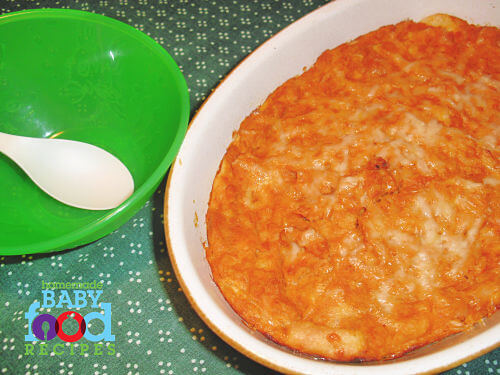 Perfect for babies from around 7 to 8 months (who are already enjoying whole eggs), this pudding has a very soft, mushy texture that's easy to eat and it's VERY satisfying, thanks to the wholesome whole wheat bread it contains!
This dish makes the perfect lunch – or even breakfast – and this recipe yields enough for mummy, daddy and baby to share (although the adults might like to add a little salt). Alternatively, any leftovers may be frozen for up to one month.
Please note: this recipe needs very little preparation time, but it DOES need 20 minutes 'standing' time, so be sure to allow for those 20 minutes!
To Make Cheese N' Pumpkin Pudding for Baby You Will Need…
4 heaped tbsp grated Parmesan cheese
1 egg
4 fl oz (1/2 cup) milk – use whole milk, formula or breast milk
pinch of nutmeg
3 slices of whole wheat bread, torn into shreds (this is a good way to use up slightly stale, dry bread)
8 fl oz (1 cup) pumpkin puree (or other veggies puree, as per notes above)
In a large bowl, mix together half of the cheese with the milk, egg and nutmeg.
Add the torn bread pieces and set aside for 20 mins, so the bread absorbs most of the liquid.
Preheat the oven to 350 deg F.
Stir the pumpkin puree into the egg mixture.
Grease a small baking dish.
Pour in the pumpkin/egg mixture and sprinkle the rest of the cheese on top.
Cook for around 30 mins, until golden and set. Serve warm.
Pin It