Here's a fun idea for a finger food – little melt-in-the-mouth cheese meringues that are simple to put together and use only 2 ingredients!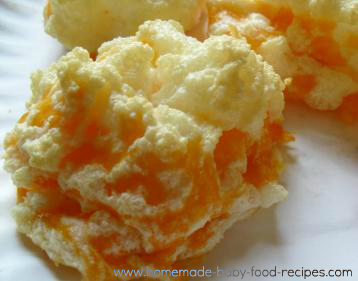 We first made these when one of our older daughters was tiny, as we had a few spare egg whites leftover from a recipe that used only the yolks. That same daughter is now 10 years old and was doing her OWN baking this weekend, when she handed us four egg whites left over from her recipe. Those cheesy meringues sprang to mind once again, so we whipped up a batch and they went down incredibly well with our two year old!
These meringues are ideal for babies who have been safely introduced to whole eggs (more information about introducing eggs here) and are ready for finger foods or doing baby led weaning. They are very easy to eat, with a lightly crisp texture that truly does melt in baby's mouth.
We recommend making these in the morning of the day on which you plan to serve them – we've never had much success with storing them. That could be down to the humidity here – trying to keep meringues crispy and fresh in the damp heat of a Bahamian summer is nigh on impossible! They may be easier to store in an airtight container if your climate is somewhat cooler and drier than ours. In fact, if you succeed in keeping them fresh we'd love to know, so that we could provide a better recommendation for storage times!
So here's how to make them…
To Make Cheese Meringues You Will Need…
4 egg whites
4 oz (1 cup) grated cheese – we used Cheddar
Preheat the oven to 250 deg F (130 deg C).
Whisk the egg whites in a bowl until they are COMPLETELY stiff – this means that you should be able to hold the bowl upside down and the egg whites should stay in the bowl. Make sure there's no yolk in the whites at all or it can ruin your results.
Gently mix in the grated cheese (we say gently, because you don't want to knock the air out of the egg whites).
Grease a baking sheet, then spoon the beaten egg whites into little 'heaps' on the sheet.
Place in the oven and bake for around 10 minutes – keep checking, as you want the meringues to become firm but not darken.
Switch off the oven and leave the meringues inside – this extended time in the heat completely dries them out and gives them their crisp texture. We left ours for 2 hours.
Serve just as they are!
More delicious baby food recipes with eggs
Please do let us know if your bub enjoys this cheesy treat!
Pin It