Canned tuna is a great source of Omega-3 essential fatty acids, which are so important for the healthy development of your baby's brain.
But it's not always easy to come up with creative ways of serving canned fish to your little one… so today we have an idea for you that's very easy to put together in just a few minutes and tastes wonderful!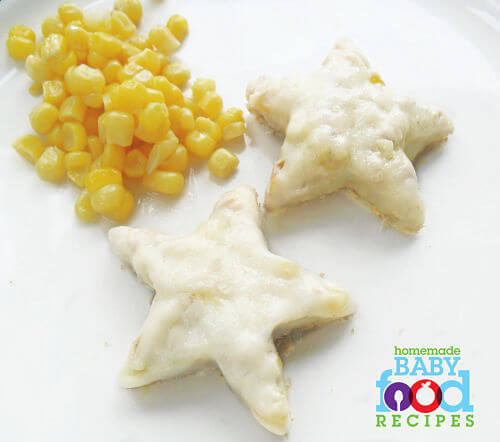 Today's recipe – which is great for babies already confidently biting and chewing finger foods – contains sweetcorn, which our little ones have always loved with tuna. However, you could substitute this for any cooked veggie your baby enjoys – and another big hit with OUR little ones has been roasted red pepper, finely chopped.
To Make Cheese N Sweetcorn Tuna Bites for Your Baby You Will Need…
1 slice whole wheat bread
1 heaped tbsp canned light tuna (packed in water)
1 small slice ripe avocado
2 tsp natural yogurt
1 heaped tsp cooked sweetcorn (or your baby's veggie of choice)
1 slice Muenster cheese (or use any cheese your baby enjoys)
Mash the avocado with a fork, then stir in the natural yogurt.
Add the tuna and sweetcorn and mix thoroughly.
Toast one side of the bread, then turn over and spread the untoasted side with the tuna mixture.
Top with the cheese slice and place under a broiler set to medium.
Broil until the cheese is melted and bubbly.
Allow to cool to a safe serving temperature then cut to size before serving (we cut out our shapes with a cooke cutter once the cheese had cooled a little).
Pin It